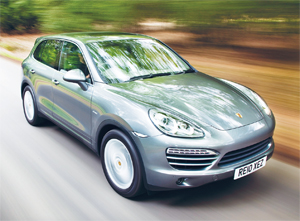 The are some significant improvements coming to the Porsche Cayenne range, with the Cayenne diesel getting a second generation engine which the company claims will offer greater efficiency and lower CO2 emissions. While the 3-litre diesel engine retains the same displacement, it delivers slightly more power (up five bhp to 245bhp), a marginal increase in fuel economy and a six gram drop in emissions to 189 g/km. A new turbocharger and a revamped injection system offer better throttle response. It also means the engine is 20kg lighter than the previous model. Given that only a few years ago the German manufacturer was adamant that there would never be a 'diesel Porsche' it is interesting to see these developments coming through. Indeed, the Cayenne S Hybrid has also been modified which means that under certain conditions it is possible, even from a cold start, to drive and manoeuvre at low speed on the electric power alone. Originally, you first had to start the engine and get everything to operating temperature.
Thankfully, however, Porsche is not about to ignore the performance end of the market, even when it comes to the Cayenne, and a new Turbo Powerkit joins the vehicle's long list of options. This new option from Porsche Exclusive is for the Cayenne Turbo and boosts maximum power by a significant 40bhp to a whopping 540bhp. Maximum torque is also increased by 50Nm to 750Nm. This boosts the acceleration, and also gives the beast a top speed of 176mph. Interestingly in this revamp, fuel consumption and emissions remain the same.
There are also some new cosmetic options for the Cayenne that include LED rear lights, Bi-Xenon headlights and quad sports tailpipes. Inside you can now select new decorative stitching and leather packages including the Yachting Mahogany wood treatment. A milled aluminium gear selector and stainless steel or carbon door sill guards are also available.
Perhaps for us mere mortals who own rather more prosaic 4x4s that don't have milled aluminium gear levers, as Porsche push the top of the range Cayennes even further up market, second-hand models at the lower end actually appear to become affordable for those on more reasonable budgets. We all seem to have got used to the Cayenne's looks these days and you can get quite a lot of vehicle now for reasonable prices on the second-hand market.