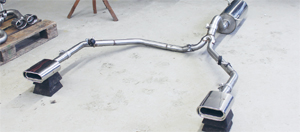 With Volkswagen's Amorak about to arrive in UK showrooms, Fox Exhausts has developed a bespoke exhaust system for the all-new pick-up.
The aftermarket exhaust system is available with side- or rear-exiting pipework, and Fox claims it will improve power output by 8bhp. It will also deliver an extra 13lb ft of torque.
Fox exhausts are hand-built to order, meaning they can be tailored to suit an individual customer's requirements. The components are constructed from aircraft grade V2A stainless steel and feature hand-polished, high-gloss tips.
Prices for the Amorak exhaust systems start at £546.88 including VAT. www.fox-exhaust.co.uk