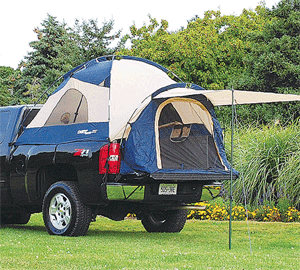 DVK Quba has released details of its SUV and pick-up tents. With its origins at the start of the 20th century, DVK Quba has developed a range of leisure and automotive accessories as well styling enhancements.
With a patented sewn-in floor, around five and a half feet headroom and a six square feet awning complete with adjustable poles, these tents provide a credible off the ground camping solution. The pick-up Sportz Truck Tent III sleeps two, is available in either navy blue or tan and comes with everything you need, all for £295.50. We'll be testing an example out in a future issue.
In the meantime, there are other tents and accessories on DVK Quba's website www.dvk-quba.co.uk or call DVK on 01926 854920.
A WHEEL TREAT
If you want some eye-catching wheels on your 4×4, take a look at Oxigin alloys. Established in Germany in 2001, Oxigin is now venturing into the UK market, and its full range of high-quality wheels is available throughout the country.
The alloys offer a high degree of aesthetic appeal, but they also help to reduce weight and improve performance – both on- and off-road.
Whether customers opt for the flamboyance of the polished or body-coloured styles or the more reserved charm of the classic range, there is likely to be an Oxigin wheel to suit most tastes. Available in any size from 17 to 22 inches, the wheels are suitable for most makes of 4×4 and feature a special acrylic coating that helps keep them looking fresh.
Prices start at £129 per wheel. Visit www.oxigin.co.uk to find a stockist near you.