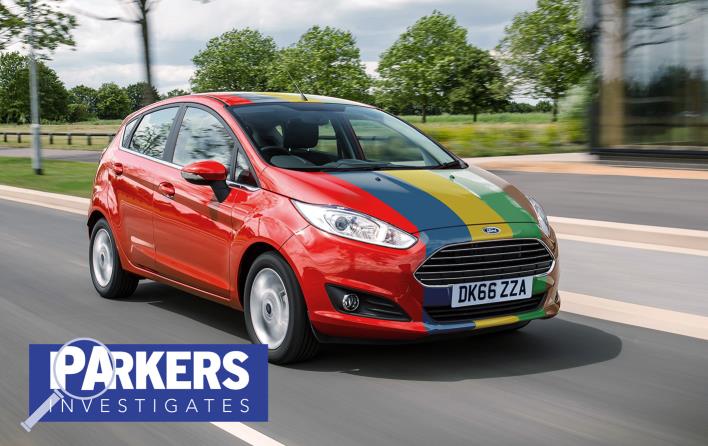 A Parkers investigation reveals that more than half of the most popular new models will cost consumers on average an extra £536 if they want to have a choice of more than one colour.
Car manufacturers have reduced the palette of solid colours available to just a single offering on 30 of the country's most popular cars. For those companies offering only one free colour, consumers are charged on average an extra £292 for non-standard solid paints.
As metallic and matt types of paint cost more to produce, and the application process takes longer with more layers of base- and top-coats, it's reasonable to expect an additional charge for something more sparkly.
White and black most popular; but usually cost extra
Sales data compiled by the Society of Motor Manufacturers and Traders (SMMT) confirmed that white was the most popular colour for new car sales in 2016, with 552,329 registrations. And yet, of those 50 popular ranges of cars sampled, only 26 are available with solid white as a 'free' colour.
Black is the second most commonly-chosen colour with 542,862 registrations. Only 14 of those 50 popular ranges have black as a no-cost option colour. This doesn't seem fair on Britain's hard-pressed car buyers amid ever-increasing fuel prices rises and 2017's VED car tax changes.
One manufacturer spokesman who asked not to be identified confirmed Parkers' suspicions: 'The policy of charging more for certain shades of solid paint became more widespread during the recession to boost profitability, especially on smaller, less expensive cars.'
Across all of the UK's most popular ranges (including those with more than one free standard colour), premium paint finishes will set car buyers back an average of £808.
Surely you'll have more than one 'free' choice of paint with a MINI Hatch? Well, no – but unusually, the standard colour is a metallic: Moonwalk Grey. Of the other popular cars in our sample with only one standard shade, only the Kia Sportage's paint is metallic.
If you'd prefer solid paint in Chilli Red, Pepper White or Volcanic Orange, you'll pay a £475 premium – the same price MINI charges for its other metallic colours – despite being cheaper to produce. If you're hankering after solid Lapisluxury Blue, that's £750 extra.
MINI's spokesperson told Parkers: 'Our customers love to customise their vehicles and there are hundreds of thousands of possible combinations. In order to offer this level of customisation, options are priced to reflect the manufacturing and logistical requirements to facilitate them.'
What of the darling of the crossover crowd, the Nissan Qashqai? Plump for the least-expensive Visia DIG-T 115 at £18,795 and solid Flame Red is your only standard shade, with all of the optional colours being metallic (£575 extra) or pearlescent (an additional £745).
Nissan's spokesman was tight-lipped on the reasons behind the restricted 'free' choice but suggested that 'around 95% of Qashqai buyers choose a premium colour.' With such a large volume of sales those extra-cost colours look particularly lucrative.
Parkers buying advice
Research all of the costs thoroughly before you set foot in a showroom so that you know exactly what you want, and play different dealers off against each other.
It's worth remembering that cars in metallic colours usually have a higher resale value than their equivalents in solid colours. Rather than spending that average of £292 for an optional solid shade that a used buyer is less likely to appreciate the premium for – if you can budget for it – spend the extra £244 average cost for a metallic colour for a stronger residual value.