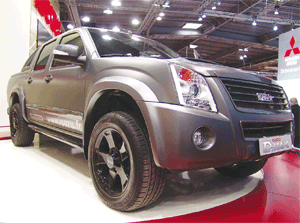 Hall 1 offered the most notable unveilings at this year's Paris Motor Show, reports Phil Weeden. Land Rover was proudly displaying the new Evoque and celebrated the life and work of Charles Spencer King, the driving force behind the Range Rover launched 40 years ago. On display was a CSK Limited Edition Classic from 1990 while Land Rover MD, Phil Popham, announced a new Student Sustainability Award in honour of 'Spen' King and in association with the Institution of Mechanical Engineers.
BMW had a good show with the introduction of the all-new X3 SUV. The previous generation model had a shaky start, according to critics, with the facelift model being much better. This all-new model, however, is said to be an even greater step forward. Kia had a 'Green Zone' including a Sportage concept featuring an uprated 1.7-litre turbodiesel and a 5kW electric motor with CO2 cut to 117g/km – this is still strictly a concept.
Dacia was on show with its Duster, including a competition version that will enter the Trophée Andros ice-racing series this winter for the second year running, with Alain Prost behind the wheel.
Finally, it was only six weeks ago that Chrysler Jeep officially merged under Fiat's control in Europe, so this was the first official outing for the company. The new Grand Cherokee took pride of place along with the Wrangler, Cherokee, Patriot and Compass. Visit www.mondialautomobile.com for more information on the show.