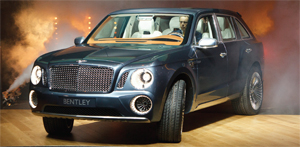 We first saw the Bentley SUV at the 2012 Geneva Motor Show (4×4, May 2102 and pictured above). Then code-named the EXP 9 F, this huge beast was powered by the 6.0-litre W12 twin turbo engine, coupled to an eight-speed gearbox. Besides all the leather and rare wood trim luxury, it also sported a 'sump cam' so you could see what was under the car when negotiating that arduous gravel drive to your country pile. Opinions on its looks varied, but one thing was obvious, this was more than just the design studio producing a futuristic 'concept' vehicle; this was a pre-production model, ready to go if the decision was made.
Well now that decision has been made, and Bentley has announced a massive £800m investment for the Crewe production plant. Over 1000 UK jobs will be created, and the first Bentley SUV will roll off the line some time in 2016. Whether it will actually look like the EXP 9 F concept has not been confirmed. Indeed, the 'teaser' drawing released with the announcement, shown here below left, would indicate a rather lower, more 'sporting' body style. Bentley has said that the response to the Geneva Show car was 'extremely positive'.
The new SUV, 'will be a thoroughbred Bentley true to the brand hallmarks of luxury, performance, quality and craftsmanship. The styling will set it apart from any other SUV on the road and will be true to the Bentley design DNA. It will be the most luxurious and most powerful SUV in the market.' It seems that the luxury 'top end' of the SUV market is still growing – or at least thought to be. Reports in the national press spoke of a price of £160,000, which would even put it above the new Range Rover. It would be interesting to know where the 'extremely positive' customers were based, but it can be assumed that this new model will be aimed at the growing upper classes in China.
We also wonder what has happened to the Lamborghini Urus, debuted at the Beijing Motor Show in 2012. This was a very expensive, very powerful SUV, based on the Audi Q7 platform (Lamborghini, Bentley and Audi are part of the Volkswagen Group). We wonder whether that too will be produced, or whether the VW board has decided that it will be Bentley carrying the flag for the most luxurious, most powerful production SUV available. Just how big is the market, and how long will it continue to grow at a rate that tempts a manufacturer to invest £800m into it, remains to be seen.