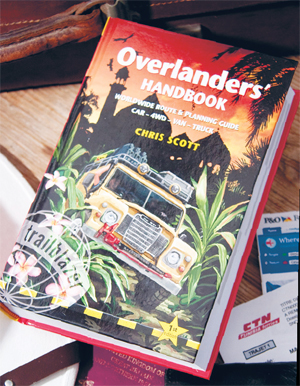 The overland community has been looking forward to this – Chris Scott's most comprehensive guidebook yet – for the last 12 months.
Following on from Adventure Motorcycling – the book used by Ewan McGregor and Charlie Boorman – and Sahara Overland – the guide TV's Michael Palin packed in his shoulder bag – Overlanders' Handbook aims to be an all encompassing guide to planning, preparation and travelling around the Globe.
Within its 752 pages is the answer to just about every question the prospective traveller may ask, from how to buy and equip a vehicle, to where to buy a set of Arabic number plates and a carnet. The book is clearly written and illustrated with maps, photos and diagrams supplied by Chris and his comprehensive group of contributors, all based on the lessons learned in the course of their travels.
There is humour, too, including details of testing a 'dry' toilet system before fitting it to a truck, and 4×4 regular, Toby Savage, explains the benefits of standing room in his Carawagon when inviting soggy campers around for pre-dinner drinks.
For anyone planning a new trip, or expanding their horizons to travel beyond the comfort zone of the guided tour, Overlanders' Handbook makes the ideal starting point, steering the reader towards the most cost-effective solutions and offering real advice, country by country, of the best ways to enjoy safe and adventurous overland travel.
Overlanders' Handbook is published by Trailblazer Guides and available from www.mattsavage.com