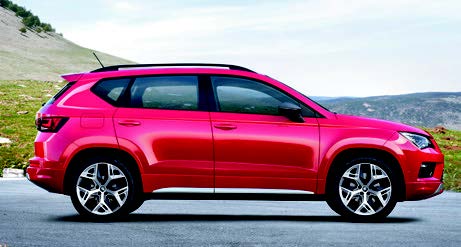 Seat has been making waves since entering the SUV market last year with the Ateca. And the Spanish manufacturer,
so well known for putting a sporty twist on everything parent company Volkswagen does, is shortly to open the order books for a new FR model – adding unique bumpers, alloys, spoilers and more to put more funk into its image.
The FR will be available with a choice of four engines, three of which will drive all four wheels as standard. These are the 2.0 TDI 150, which comes with a manual box and can return a claimed 55.4mpg, and the 2.0 TSI 190 and 2.0 TDI 190, both of which have seven-speed autos and get the car up to speed in less than eight seconds without going overboard on fuel themselves.
Inside, sports seats help cement the image created by the FR's more aggressive looks, and a drive mode dial allows you to trim the vehicle's handling to suit your mood – or indeed to get it ready for a journey off the beaten track.
Prices range from £28,410 for the 2.0 TDI 150 and climb to £30,930 for the 2.0 TSI 190, with orders opening on 3 July.