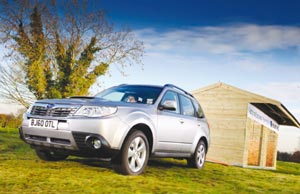 Subaru has been asked to move an entire building using only an SUV, a challenge presented by the UK's leading stable manufacturer.
National Stables called upon Subaru for the inaugural tow of its recently introduced Mobile Field Shelter. Weighing in at 1750kg, the 22ft x 12ft wooden structure can accommodate up to three horses and features heavy-duty galvanised steel skids and towing eyes at both ends so that it can be moved around a paddock. The Shelter was designed to be towed by a large tractor, but National Stables wanted to see what was possible.
Subaru UK selected a Forester 2.0D XS NavPlus, with its 2000kg towing capacity for the job. It hauled the mobile field structure across some tough rural terrain near Faversham, Kent, over 300 yards, on at least four separate occasions.