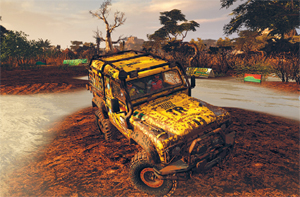 If you, or someone in your family, is a keen 'PC gamer' then this is certainly for you. Off-Road Drive, from Lace Mamba Global, is the new version of an established off-road driving computer game. Cross-country driving in specially tuned 4x4s is the real challenge for determined and tough extreme sports drivers, while sitting on the sofa.
Apparently, "Off-Road Drive lets players participate in various international competitions never seen before in a video game. All virtual contests are the exact duplicates of the real ones, including various extreme driving and use of the rules established by the international auto sports federations."
The vehicles in the game are said to have the same features as their actual car models, and you can choose which one you want to drive, depending on what event you are 'entering'. While completing the tracks in varying difficulties, players not only control the speed and heading of the vehicle, but you also decide when to lock the main, front and rear diffs, use the winch, and adjusting the tyre pressures. You can also play these games over the internet.