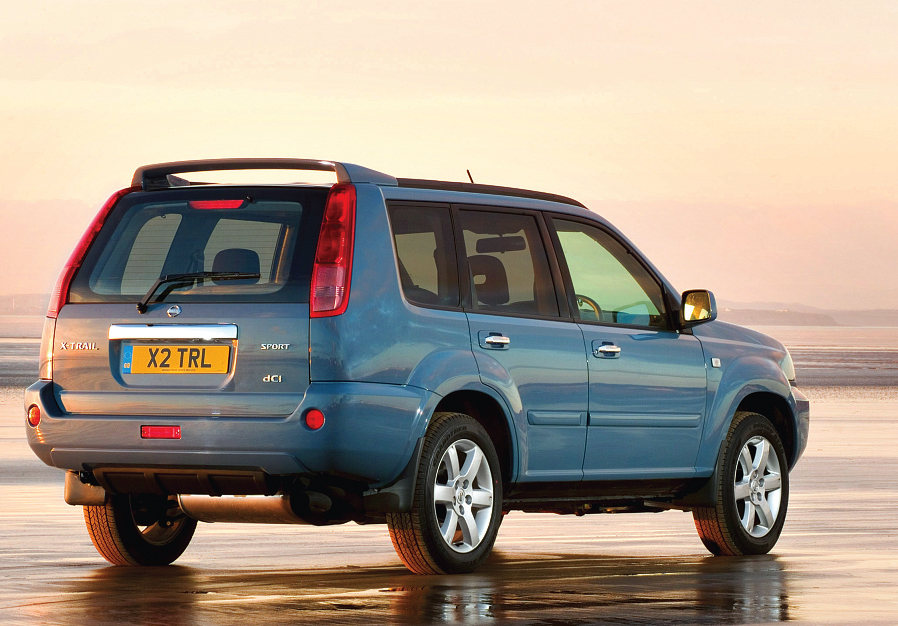 The X-Trail's styling may seem conservative, but what it lacks in the way of off-road charisma it more than makes up for as a particularly practical choice as a family car. First examples were offered with a choice of 2.0-litre petrol or 2.2-litre turbodiesel power, a performance improvement arrived two years later in the form of a 2.5-litre petrol engine and an upgrade to the common rail turbodiesel boosting output to a more effective 136 horsepower.
The X-Trail was sized to ensure that a mountain bike could be easily accommodated on its completely flat load bay, while the ski-hatch opening through the rear seat back is big enough to take four snowboards. Since camping equipment, scuba gear, walking boots and the like are often wet, smelly and muddy the load area is covered in a hardwearing and easily washable plastic material, which as far as most users are concerned serves just as well as a platform for suitcases, shopping bags and perambulators.
Petrol versions feature five-speed manual gearboxes, with a CVT-type automatic optional on some specification levels, the diesels have six-speed manuals. When driving on tarmac in normal conditions the X-Trail is a front-drive estate; when four-wheel drive is needed it can be engaged at any speed by dabbing a button on the dashboard. It's a system tuned more for high-speed on-road stability than to ensure optimum off-road traction; the X-Trail is designed to get its occupants to where the action is happening, rather than being the focus of off-road action itself, which also explains the lack of low range gearing.
Like others of its class the X-Trail is of monocoque construction with all-independent coil-sprung suspension with limited ground clearance and articulation. It's not, therefore, a car to consider seriously as a hard-core fun day off-roader.
The seats are comfortable and the driving position natural, though having the dials mounted centrally on the dash takes some getting used to, it does at least leave a useful cubby in front of the steering wheel. The turbodiesel is quite noisy on tick over but growls in a pleasingly sporty manner once cruising, driving enjoyment enhanced by the crisp gearchange of the six-speed manual.
The steering is pleasantly precise and handling impressively stable. All the X-Trails are well equipped with even the base S boasting remote central locking and electric windows, electric mirrors and the huge electric Skyroof, plus remote controls for the audio, though this is a basic single-slot CD system, so look out for cars with better aftermarket upgrades.
A more popular choice is the mid-range Sport, which has natty 16-inch alloys as well as side airbags and the chilled drinks holders in the facia, linked to the air conditioning.
The SE adds climate control air conditioning, alloy wheels, alarm, cruise control and side airbags. Examples from 2005 are falling within our price limit, but beware that from the spring of 2005 the SE was also available in purely front-drive form, so make sure you're getting a 4wd version.
The SE+ has the added sophistication of heated leather seats, while the popular SVE has electric adjustment for the front seats. Pricing of all versions appears to be more dependent on condition and mileage than power source, but you should be prepared to pay a little more for a turbodiesel and a little less for the lustier but thirstier 2.5-litre alternative. On an older turbodiesel listen for excessive rattling from the front of the engine, suggesting a loose timing chain, a problem known to occur as the chain guide wears and eventually breaks up.
Erratic running could be caused by clogging exhaust recirculation valves, a problem that can also eventually lead to turbo failure, make sure any turbodiesel you plan to buy starts easily and runs smoothly without hesitations. Worn synchromesh is quite common on manual gearboxes, make sure changes are smooth and crunch-free. The CVT automatic has a manual override function, make sure it works, not because you need it, but if it doesn't it may point to a looming more serious problem.
OFF-ROAD:
ON-ROAD:
VALUE FOR MONEY: