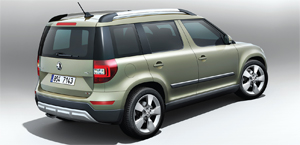 Elsewhere in News, we comment on the sales success of Land Rover's Evoque. It's interesting, therefore, to report on another SUV that has been a global sales phenomenon. Skoda's Yeti has been around for longer than the Evoque, having been launched in 2009, and a total of 263,200 Yetis is impressive, more so, however, is that some 87,400 Yetis were sold in 2012 and that figure looks like being matched for 2013 – in a depressed European market let's not forget. Production is truly global with models built in the Czech plant of Kvasiny, in Russia at Nizhny Novgorod and production will be starting in Shanghai, China, by the end of this year.
The new models, which were revealed at the Frankfurt Motor Show, sees the Yeti now available as two visually different options; a Yeti for the town (available as front-wheel drive) and an off-road version. The new visual designs distinguish the two models. Front and rear changes have been made, and the 'off-road' option has underbody protection, side mouldings which can be body colour or as black plastic. There are four new alloy wheel designs, and new body colours – one of which is worryingly called 'Jungle-Green'. The interior has changed, which is a positive as it always appeared a little too VW Golf-influenced and too bland and efficient to us. A new three spoke steering wheel, different fabrics and seat patterns and decorative trims will hopefully lift things somewhat.
The Yeti 'off-roader' has the fifth generation Haldex coupling, and a ground clearance of 180mm. There are six or seven speed dual clutch transmission options, depending on models. The new models will be launched towards the end of the year; UK pricing has yet to be announced.
Production of the Yeti is about to start at the Shanghai-Volkswagen plant in China, where the wheelbase will be increased by 60cms, according to the China Car Times. This is apparently due to the 'Chinese consumer love for extended wheelbase vehicles'. It's unlikely these longer Yetis will be exported from China.