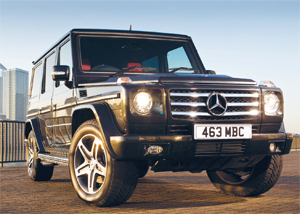 Mercedes-Benz will introduce a new 4.0-cylinder, 2.2-litre diesel engine in the third generation M-Class making it best in its SUV segment for fuel economy and emissions.
The ML250, which will be launched to the public at the Frankfurt Motor Show in September, has CO2 emissions of 158g/km and Mercedes said that it will do 17 more miles to the gallon than the best Land Rover Discovery.
The model is equipped with Mercedes's 'Bluetech' technology and includes a stop-start system, electronic steering and seven-speed automatic transmission.
Mercedes-Benz UK is still studying the market for the 4.0-cylinder diesel but it is more than likely to be in the range when it is launched in Britain next April. There will also be the ML350, six-cylinder diesel and the 5.5-litre petrol AMG model. A hybrid will follow later in the year.
According to insiders in Stuttgart, there are no plans to drop the G-Class despite the success of the company's more stylish SUVs. 'It is something we think about every now and again but our customers wouldn't let us. The G-Class has a very loyal following and we sell around 6000 a year'.
The compact crossover GLK, currently unavailable in the UK, will eventually be launched in Britain. MB UK states: 'We're very unhappy that we do not have the GLK in the UK, but there are cost implications in engineering vehicles for right-hand-drive. As more right-hand-drive markets open up, particularly India, we will overcome these restraints'. This may also open the possibility of four-wheel-drive C, E and S models coming to the UK.