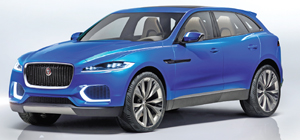 Normally associated with saloons and sports cars, Jaguar chose the Frankfurt Motor Show to reveal a radical SUV concept, dubbed C-X17, writes Phil Weeden. The stylish new concept is signifying the company's new iQ-Ai aluminium intensive architecture, which is different from that used for the new Range Rover. This new modular construction technique, developing many of the advanced aerospace-inspired aluminium construction methods Jaguar has established over the past 10 years, will enable the brand to expand the model range dramatically, venturing into new markets not previously considered economically possible. Jaguar also believes this smart way of designing and developing cars will also ensure that expansion does not come at the expense of quality or through a cheapening of the core brand values.
While Jaguar is unwilling to confirm that the C-X17 will ultimately make production, the chances of it doing so are surely very high. With an estimated 20 million SUV sales up for grabs worldwide by 2020, Jaguar would be well placed to offer a model that blended F-TYPE inspired styling with Land Rover derived engineering. The C-X17 concept shows what that final product could look like.
Design Director Ian Callum has admitted he was initially reluctant to entertain an SUV Jaguar, but the engineering possibilities granted by the new modular construction and the sheer challenge spurred him and his team into producing such a shape. While it's clearly a concept, with its bright Caesium Blue paintwork, 23-inch alloys and trick illumination in the front inlet scoops, the C-X17 is awash with neat proportions, elegant details and an awesome stance. In this writer's view, it certainly makes the Porsche Cayenne or Audi Q5/Q7 look positively ungainly in comparison (Not everyone may agree, it would be great to get some reader response on this one – Ed).
From the bluff front end featuring the distinctive Jaguar rectangular grille with its chrome edging, the bonnet line rises up to a laid back A-post and sweeping roof line; this then curves down to a sporty look tailgate complete with an E-type fhc inspired rear window, finished off with an extended roof spoiler and slim tail lights. The pronounced hip over the rear wheels and the shallow side window graphic trimmed in gloss black give it a poised and sculpted profile that is sporting despite its considerable bulk. It's 4718mm in length, 1649mm high, 1959mm wide and sports a 2905mm wheelbase. Callum revealed it took three clay moulds before the team was happy with the overall proportions.
Under the body is a 3.0 V6 supercharged petrol but it could also house JLR's forthcoming range of four cylinder petrol and diesel engines. It will feature intelligent all-wheel drive and torque vectoring – technology adopted from the Range Rover Sport – to give it excellent grip regardless of the terrain and yet retain superb on-road dynamics.
It is therefore mainly designed for on-road use, with power initially going to the rear wheels. However, with 210mm of ground clearance and an all-wheel drive system, which constantly monitors conditions, switching power to the front when needed in order to maximise traction, it should cater for most customers' requirements. The gearshift will also enable the driver to select one of three modes: road, sport and all-road.
Inside, the interior is most definitely 'concept' with leisure seats that pop out from the boot floor and multiple touch screens situated throughout a full-length centre console that runs from the dash to the two individual rear seats. There's no traditional burr walnut but a confident use of leather, piano black and aluminium/metal finishes. The full glass roof is finished off with striking blades that produce interesting light and shade patterns in the cabin. There are twin digital gauges in front of the driver, but now also allied to heads-up display, and for the first time connectivity to enable passengers to upload music, photos and videos plus link up to social media such as Facebook through a secure Wi-Fi network.
While an SUV may seem like a controversial departure for Jaguar, there is no doubt that in key markets such as the Arab countries, Russia, China and North America, an SUV is essential if any car maker is to guarantee useful (and profitable) sales volumes. Porsche was in the same boat before it introduced the initially derided but ultimately hugely successful Cayenne, now the best-selling model in its range.
While we await official confirmation of the SUV, the first actual model to stem from Jaguar's new iQ-Ai architecture is an all-new mid-sized saloon, on sale from 2015, and will be assembled at Jaguar Land Rover's Solihull plant. It will be offered principally as rear-wheel drive but will also be available as all-wheel drive.