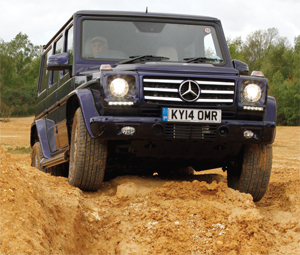 Now in its 35th year of production, little has changed with the Mercedes-Benz G-Class – apart from the name. To most off-roaders, this venerable 4×4 will always be known as the G-Wagen, or Geländewagen; simply translated that's all-terrain vehicle. Now it's simply the G-Class, to match the full Mercedes range.
The German company has officially announced that there will be a completely new 'G' on, and off, the roads for 2017. Yet while there will be significant changes, much will stay the same, according to Andreas Zygan, Mercedes SUV boss: "We have to be careful with our heritage. We offer something really special. Last year, the 34th, was the best ever for G-Class sales. It's amazing, and one of our idols."
We gather that the new model will use a lot more aluminium in its body structure, with the aim being to take as much as 200kg from the existing model's hefty 2570kg bulk. It will also be wider, a much needed development as the vehicle has always suffered for rear seat interior space. Not something that seemed to matter 35 years ago, but certainly does today where even small hatchbacks are now much 'fatter' than their original versions.
It will also get a new front suspension, possibly three or maybe four link. This will be associated with an electro mechanical steering system, not a completely 'fly by wire' approach but certainly lightening up the present vehicle's rather hefty approach. The suspension will also improve the handling characteristics, which are a long way from present products from the likes of JLR.
Pleasingly for traditionalists, it is likely that the straight-line, slab-sided exterior looks will remain. In a world where so many SUVs are being produced from some universal jelly mould, this is to be applauded. Inside, besides more space, you can expect even more luxury, brought in from the C-Class range and there will be what Mercedes call 'more driver assistance', which presumably means all the fancy electronic wizardry that is commonplace in today's premium off-roaders. Hopefully this will not go too far because the present 'G' certainly needs to be 'driven' when off-road, and the manual selection of the famous three diff locks does mean you need to think before you plough on and through the rough stuff.
Engine options will be changed, which is fully understandable. The company is talking about a new 3.0-litre petrol engine offering over 360bhp, and a 300bhp diesel option that are being developed for the E-Class saloons could be considered. These are likely to be coupled with the company's new nine-speed 9G-Tronic auto gearbox (the present model is a seven speed), which should improve economy and the all-important emissions.
Any thoughts that the new 2017 'G' will take any styling clues from the weirdly sci-fi Ener-G-Force concept car that was shown at the 2012 Los Angeles Motor Show are probably wide of the mark. If anything, these ideas are more likely to be used in the new M-Class. Models like the latest Range Rover and the forthcoming Bentley Falcon 4×4 means that the company will have to raise its game here as well, and a bigger and even more luxurious long-wheelbase M is planned, and this might end up being called the Pullman. It also seems that this M development may even make it to be part of the proposed Aston Martin Lagonda SUV as a deal between Mercedes and Aston. Yep, that's yet another luxury SUV on its way.
TESTED NEXT MONTH!
How timely, given there's a new version coming in the next few years, that we have a full test and technical appreciation of the 2014 G-Class in next month's issue. It's almost as if we'd planned it this way! It's our first off-road test with a new G-Class for many years, and it was worth the wait. It's seldom you get the chance to take a £106,000 off-roader into the mud and all we can say here is that we thoroughly enjoyed every minute… although it's not without its idiosyncrasies, and weaknesses. Here at 4×4 Magazine, however, we applaud Mercedes and the decision to continue producing one of the most iconic off-roaders.