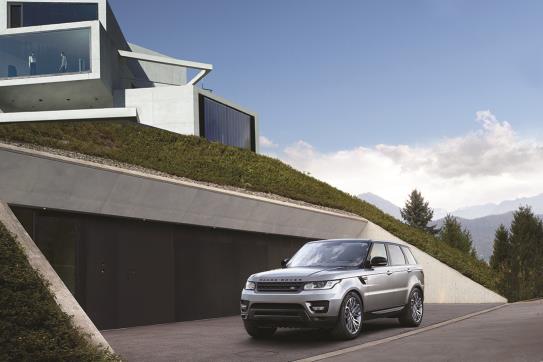 Land Rover introduces its most efficient Range Rover Sport ever. For 2017, the latest Range Rover Sport features an efficient Ingenium powertrain, upgraded infotainment system with connectivity and wifi capability, innovative new semi-autonomous driving connected technologies and greater scope for personalisation.
At 2017 Model Year, Range Rover Sport will debut the new 2.0-litre four-cylinder Ingenium diesel engine, manufactured at Jaguar Land Rover's own engine plant in Wolverhampton.  Already available on both Discovery Sport and Range Rover Evoque models, Ingenium is Jaguar Land Rover's new breed of engine designed for effortless performance, refinement and efficiency. Its advanced technology and all-aluminium construction contribute to impressive fuel consumption (45.6mpg) and CO2 emissions (164g/km) and a 0-60 time of 8.0 seconds (manufacturer's estimated data).
UK customers will also have the option of specifying Jaguar Land Rover's 3.0-litre V6 supercharged petrol engine from 2017 Model Year. The supercharged V6 achieves 340HP and 450Nm of torque combined with CO2 emissions of 243g/km. Effortless acceleration and power delivery produces a 0-60 time of 7.1s.
In addition to new engine technology, Land Rover introduces a series of semi-autonomous driving technologies to Range Rover Sport. Advanced Tow Assist, Blind Spot Assist and Intelligent Speed Limiter work alongside existing features to elevate driver aids to an even greater level of convenience and safety.
Peerless all-terrain capability remains a cornerstone of the Range Rover family and the 2017 Model Year Range Rover Sport includes a selection of new features. Low Traction Launch makes it easier for drivers to pull away on low-grip surfaces while the updated 4x4i menu presents all the necessary vehicle information when tackling challenging terrain.
The enlarged dual-view touchscreen features a new 10-inch display for greater ease-of-use and clarity and features tablet-style pinch and zoom orientation. This is powered by Land Rover's market-leading InControl Touch Pro technology, making this the most connected Range Rover Sport to date.