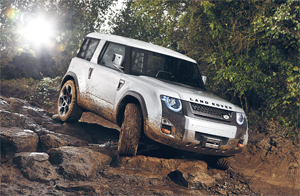 Well, this has created some furious discussions on the forums, and around the clubs. Land Rover unveiled 'the potential future direction of the iconic Defender' at this month's Frankfurt Motor Show. Designated the Land Rover DC100, it has been produced by the successful design team led by Gerry McGovern. This magazine actually went to press before the Frankfurt Show, but the pictures and details we received before the model was unveiled did say this was a 'concept' Defender. However, one fact was confirmed: Land Rover intends to launch a new Defender in 2015. Concept it may be, but is it a blueprint for the new Defender? Well, remember what the 'concept' Range Rover LRX looked like when it was unveiled, and compare it with the production Evoque. Spot the difference?
Initial reactions from these photographs have been mixed. It certainly looks like a modern Land Rover, but it also indicates a final split from the utility, agricultural workhorse that is the admired and unmatched base for Land Rover's heritage. You can't see this vehicle dragging a rusty muck-spreader, across a muddy field, not with those tyres. What is it with designers and wheels for concept vehicles at motor shows?
It's a tough project, replacing an icon, as director of design, Gerry McGovern admits: "Replacing the iconic Defender is one of the biggest challenges in the automotive design world; it is a car that inspires people worldwide. This isn't a production-ready concept but the beginning of a four-year journey to design a relevant Defender for the 21st century."
Land Rover's Global Brand Director, John Edwards acknowledges the difficulties of making a new Defender true to LR's heritage, but perhaps more significantly he also says that the new vehicle will, "meet the requirements of a changing global market". As a 4×4 enthusiast, you may well be able to put forward your views as Edwards says that Land Rover, "plans to engage with existing and potential customers to help us finalise the details of the new vehicle." Here at 4×4 magazine, we would certainly like to hear from you. What are your views on the new Land Rover Defender DC100 'concept'?
Send your thoughts to 4×[email protected]. Due to press schedules, we have been unable to report direct from the Frankfurt Show, however, more details and more pictures of the DC100 will be found in the latest issue of our sister title, Land Rover World.