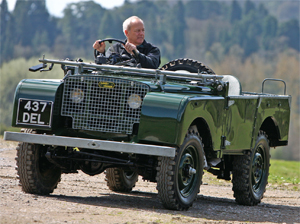 As achievements in off-roading go, Roger Crathorne's has to be up there with the most significant. As one of the most respected and dedicated Land Rover employees, Roger has a very special place with everyone at this magazine, myself included.
Back in the 1980s, then a new, relatively inexperienced journalist to the world of 4×4, I went to Eastnor Castle to do a driving feature and Roger was to be my instructor for the day. Now if you go to any off-road centre these days, instructors will often be dressed in the latest high-tech off-road gear, combat trousers, and serious boots. In short they will look tough, ready for the difficulties ahead. Roger, however, greeted me in a pristine white shirt and neatly knotted tie, and a pair of immaculate slacks. He obviously had no intention of us getting stuck in the mud, we were after all, going to be driving. He was, by far, the smoothest, calmest and mechanically most sympathetic driver that I have sat next to – and trust me, I've been with a lot of 'experts' over the years. Roger was simply Mr Cool, and I hope that a little of his knowledge passed to me that day.
He was, it seems, born to the job, since he actually arrived at the local hospital located along Lode Lane, Solihull, less than a mile from where the very first Land Rover was being built in 1947. He started as an apprentice in 1963, joined the engineering department and was part of the first Range Rover team before becoming head of the vehicle demonstration team in 1978. In recent years, he has had the perhaps dubious honour of working with the media on press events. When returning to the editor's chair, I caught up with Roger for the launch of the Range Rover Evoque. Sitting together, sharing a beer after a very interesting day's driving around, through and under Liverpool I was initially impressed with the Evoque but somehow needed more confirmation about its abilities, so I asked Roger if this was a 'proper Land Rover.' He looked me straight in the eye and said, "Oh yes, it is". Job done as far as I was concerned.
Roger has been a great friend, colleague and genuine help to this magazine. That evening at the Evoque launch he was saying just how much he had enjoyed the feature we did with the amphibious Land Rover that we took across Scotland in 2006. "If you ever do something like that again, do give me a call, I'll be there to help if I can," he enthused. On behalf of everyone on this magazine, past and present, we wish Roger a very happy and fruitful retirement. Commenting on retirement, he said: "In my new life, I will be taking the ignition key of my old Land Rover off the hook and re-educating myself with choke pulls and double de-clutching." Modest as ever, there will be no 're-educating' needed since he has never forgotten where both he and his beloved Land Rovers came from. His views on the latest Discovery Concept would be fascinating to hear. Good luck Roger, enjoy your retirement and many, many thanks. NF