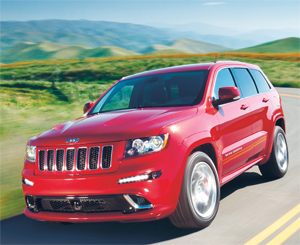 How refreshing! As we all moan about the price of fuel, as manufacturers produce infinitely clever engines that squeeze every last yard from a thimble full of fuel, what do Jeep do? They announce the Grand Cherokee SRT8, the company's latest model, but now available with a 6.4-litre V8 Hemi engine producing a wonderfully uncompromising 470bhp and mountain-nudging 630Nm of torque.
The SRT8, which represents Street and Racing Technology, was debuted at the Frankfurt Motor Show and will be available in the UK in the early months of 2012. It has all the usual Grand Cherokee spec and also some fancy fuel saving technology, which allows for a 450 mile range… Phah, don't spoil it Jeep, let's go back and look at those power figures: 0-62mph in 4.8 seconds, and a top speed "in the 155mph range".
It has paddle shift gear controls, carbon fibre accent inserts, and Nappa leather and suede seats. It looks the business on the outside, too. It's wonderfully ridiculous, it doesn't fit the present double-dip recession world we are struggling through, and that's what makes it so great. Well, done Jeep, we say!