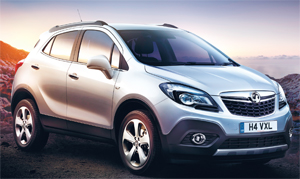 When you look back over the last 25 years of 4x4s, the Vauxhall Frontera has to be included as a vehicle that did much to establish the 'lifestyle' segment of the market. It wasn't without its faults, the company not perhaps having that great an engine range to support the concept at the time, but it was an honest, affordable, and highly capable 4×4.
It was a shame when it ceased to be produced, and not developed further. For 2012, Vauxhall returns to the 4×4 market with a new model in the, highly competitive, sub-compact SUV B-segment.
The new Mokka will be launched at this March's Geneva Show and these are the first official pictures. To be honest, it doesn't look to us as if it's going to turn too many heads, or turn too many people away from vehicles like the Ford Kuga or Nissan Juke. The Mokka will be available in front and all-wheel drive, the later being a torque sensing automatic system. There will be three engine options, all featuring Vauxhall's Stop/Start technology. The petrol versions offer a 113bhp, 1.6-litre naturally aspirated engine or a 138bhp 1.4-litre Turbo with 148lb ft of torque. The diesel is a 128bhp 1.7 CDTI turbo with 221lb ft of torque. Both the 1.4 Turbo and the 1.7 CDTI can be combined either with six-speed manual or six-speed automatic transmissions. Claims are that the Mokka will be a full five seater and have generous cargo carrying capacity.
Nothing especially exciting there, perhaps, but it is interesting that the Mokka will have Electronic Stability Control and Traction Control as well as Hill Start Assist and Hill Descent Control. Vauxhall also claim a market leading system of safety options including a front camera, which has Lane Departure Warning, Forward Collision Alert and the second generation Traffic Sign Recognition. Somehow we cannot see old Frontera owners and enthusiasts flocking to the forecourts for a test drive.