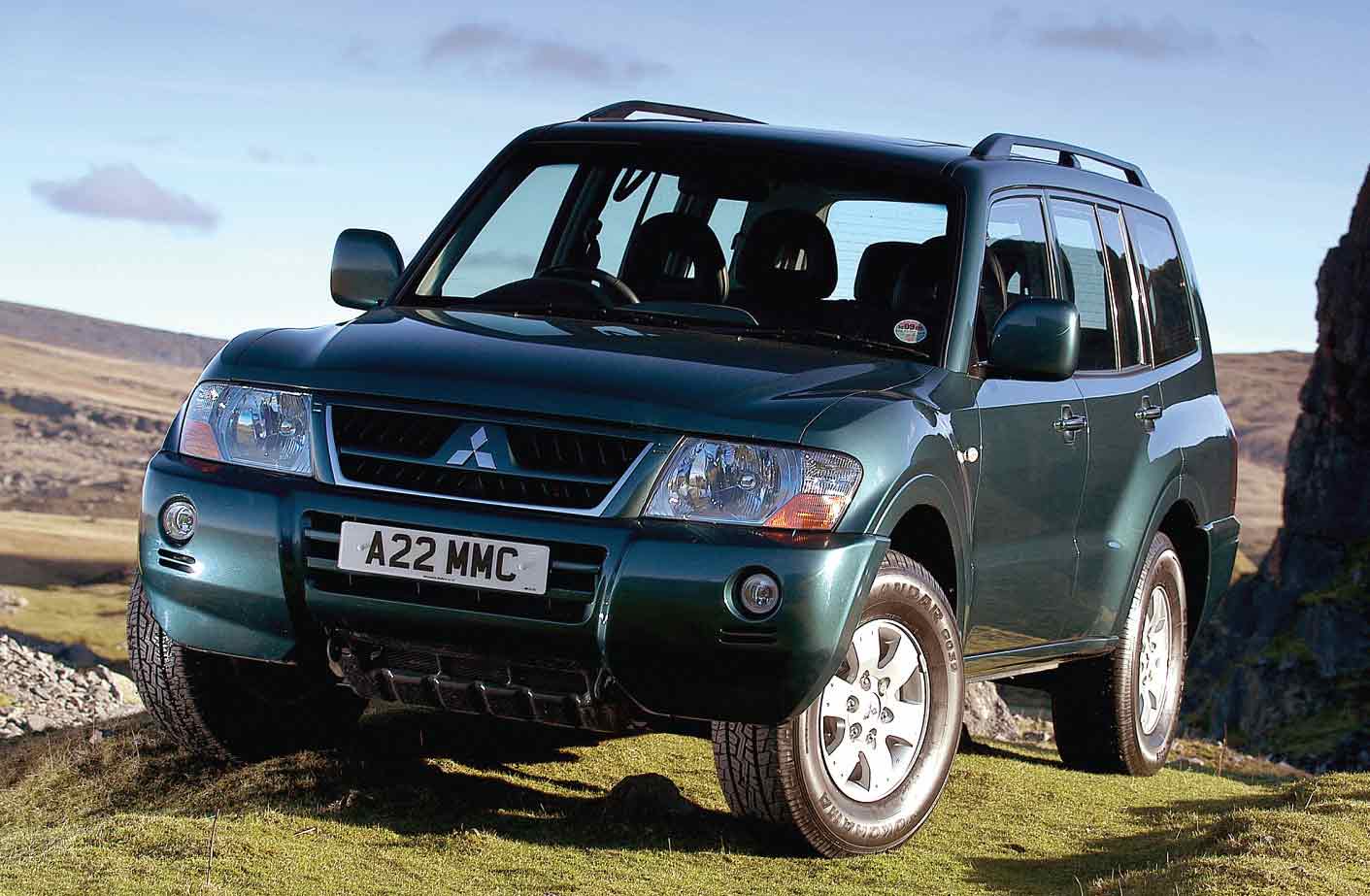 We've always considered the Shogun to be a bit overpriced, since it's a vehicle with a reputation that somewhat embellishes reality. Even in its sleeker third generation form from 1999, the Shogun was always less refined and more cumbersome to drive than many of its rivals, yet its popularity – originally spurred by the realisation that it offered a more reliable and cheaper alternative to a Range Rover – continues unabated to an extent that your £3000 is unlikely to get you anything newer than a year 2000 model and with 150,000 miles on it at that; even higher-mileage previous generation (and more truck-like) models can command over £1000.
Nevertheless the post-1999 Shogun has appeal for its more aggressive Dakar-inspired styling, particularly in the short-wheelbase version, and in the seven-seater functionality of the long wheelbase estate. This was the first Shogun to shrug off the conventional off-road structure and instead of a separate chassis and rigid axles it boasts a monocoque bodyshell and all-independent coil-sprung suspension, along with rack-andpinion steering the result being a more compliant quality of ride and sharper steering response.
The Shogun is quite car-like to drive, though some might find the powered steering a little too light. However, the big estate rides comfortably and corners without too much body lean. Both diesel and petrol variants are lively performers, though the V6 needs to be revved to give of its best, while the strong mid-range torque of the diesel calls for fewer gearshifts to regain speed after a tight bend, making for more comfortable overall progress.
It is also a better engine for off-roading, with torque peaking at 2000rpm. A five-speed manual transmission was standard, though an automatic was an option, some were four-speeders, others had the newer and more desirable five-speed box, so check the transmission before buying. The Super Select four-wheel drive system is arguably more complex than it need be, particularly in a car that is unlikely to venture off-road, but it has appeal to gadget-lovers; for this generation a quieter chain-drive transfer box is used. In terms of straightforward off-road traction the Shogun is unstoppable, but it does lack ground clearance and the long wheelbase estate has a debilitatingly long overhang limiting its capability in tortuous terrain.
Equipment on all models is good, even the base GLX has tilt adjustable steering column, alloy wheels, electric heated mirrors and a four-speaker stereo, while the GLS adds a roof spoiler, body side-mouldings, front fog lamps, headlight washers, automatic air-conditioning, cruise control and height-adjustable driver's seat. From 2001 the Classic replaced the GLX and Equippe replaced the GLS, while a new range-topping version, the Elegance, was introduced. Look out for the later Field, Animal and Warrior special editions, though these will be rare at under £3000.
The bold exterior styling of the Shogun is refl ected in the interior with its heavy dashboard featuring a massive centre console giving the driver a feeling of being tucked into a cockpit, the comfortable and supportive armchair seat helping to enhance the driving experience. It's nevertheless a roomy vehicle, with plenty of elbow room and headroom.
The rear bench in the five-door is shaped to take three adults and has reclining backrests, with very little in the way of a transmission tunnel to make life uncomfortable for a central passenger.
The Shogun stays good to 4×4 tradition in having the spare mounted on the sideways-opening tailgate, and so has good boot space, easily enough to accommodate the extra fold-up seat, which can be removed to leave a useful underfl oor storage space. In spite of its reputation, the Shogun isn't totally infallible, listen for the groan of worn wheel bearings and the click or rumble of worn CV joints on the front axle, check for oil leaks from the rear differential and check the state of the brake discs as well as pads, which wear quickly especially on a car that's been used for towing.
Engine failures are not unknown, check for signs of 'mayonnaise' under the oil filler cap hinting at the possibility of impending gasket failure, and make sure the timing chain and its tensioners have been replaced on schedule – if you can't be sure on a higher mileage car have the job done yourself as soon as possible, because a slipped timing chain can wreck the engine.
OFF-ROAD:
ON-ROAD:
VALUE FOR MONEY: