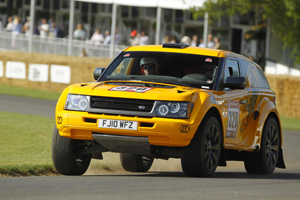 Project Mobility, the British not-for-profit organisation which helps re-habilitate injured military personnel through motorsport, has selected specialist all-terrain vehicle manufacturer Bowler to provide the cars to help it reach its ultimate aim: completing the 2014 Dakar Rally.
The organisation – which appeared on Top Gear – is preparing to enter a team made up entirely of former service men and women, all of whom have suffered injury in combat, in the 2014 event. The team will develop its rally-raid skills with other vehicles in national and regional events over the next three years, before tackling the 2014 Dakar in Bowler's all-new, fourth generation model, codenamed EXR.
The Project Mobility venture aims to engage, involve and inspire injured military personnel, and the wider disabled community, to participate in motorsport and off-roading activities; enhancing confidence, independence and providing a sense of achievement – from behind the wheel.
Bowler's involvement with Project Mobility heralds a return to racing for the manufacturer, after taking a sabbatical from the 2011/12 seasons to develop its newest model, which will be offered in both rally-raid and – for the first time in the company's history – road-going form.
Project Mobility mechanics have transformed various 4×4 vehicles into competition specification over the years, and the team has had to undertake driving and theory tests to achieve the requisite licences to allow them to compete. The project's first vehicle – nicknamed Freida – was a Land Rover Freelander, converted to Motorsport Association (MSA) competition standards. The team will continue to compete in UK rallying events over the coming months and aims to progress to the European stage in 2012, before taking on the Bowler EXR in time for the 2014 Dakar Rally.
For further information, visit www.projectmobility4x4.org or www.bowler-offroad.com.