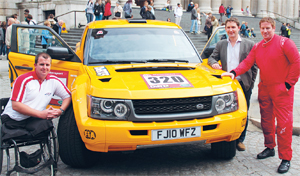 Anyone who saw the inspirational feature that appeared on BBC's Top Gear programme, where a team of severely injured former service men and woman competed in a Comp Safari event, will be pleased to hear the news that these guys are looking to enter the 2014 Dakar. Project Mobility, a British not-for-profit organisation that sets out to help re-habilitate injured military personal, has joined with Bowler to provide the vehicles necessary. This all-new, fourth generation Bowler, code-named EXR, will allow the team to develop their off-road skills in national events next year, to give them the necessary experience for the Dakar.
Company Founder, Drew Bowler was understandably delighted to be involved: "It's great to be able to support Project Mobility, and see a Bowler vehicle participating in yet another rally-raid competition."
The guys involved in the team are truly inspirational having all survived serious flesh wounds, psychological trauma, to multi-limb amputations. Their entry into their first ever Comp Safari made exceptional television and we look forward to following their successes this coming year, which hopefully will lead to an entry into the Dakar. If you want to know more, go to www.projectmobility4x4.org.
The picture shows Project Mobility team members Gavin Harvey and Nathan Cumberland with Jon Chester of Bowler, alongside a prototype of the Bowler EXR they will be driving.