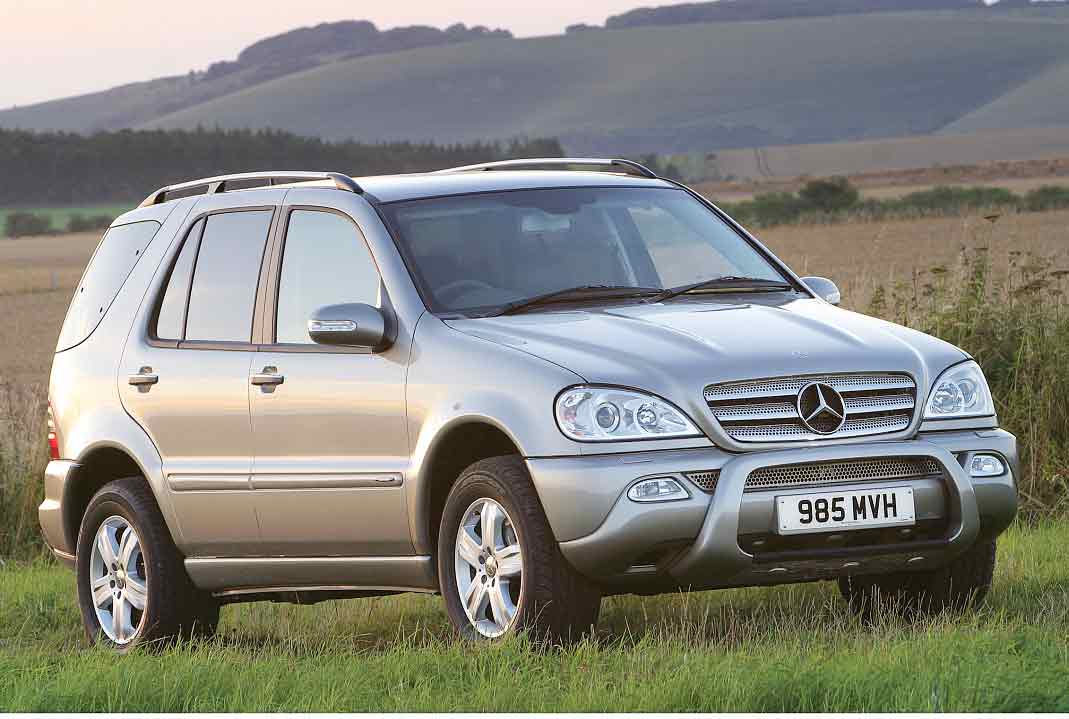 The M-Class is nominally a rival to the premium Land Rovers and Jeep Grand Cherokee but has a very different feel to it, with very little in the way of adventurous off-road styling and a sleek but rather bland body and uncluttered interior that makes it seem more like an MPV than an SUV. While on that point it's worth noting that some were kitted out as seven-seaters, but don't buy one until you've checked that the seven potential occupants can all sit comfortably inside – we don't think that will happen because the interior just isn't that roomy.
The promotional material at the launch emphasised its capability as an off-roader, but in spite of its excellent permanent four-wheel drive system, low range gearing and in some versions height-adjustable suspension, the M-Class is not a car that takes kindly to mud-terrain tyres and winch bumpers so don't consider one, even at a budget price, unless it's purely for use as a road-only family estate. As a road car we liked the Mercedes from the start, praising the ride comfort from the all-independent suspension and the light but balanced steering, pointing out in an early road test that it seemed very reasonably priced compared with, for instance, the similarly road-biased BMW X5. All versions of the M-Class have a good basic specifi cation, including climate control, electric seat adjustment and remote central locking, while the SE has enhanced interior materials including burr walnut inserts.
The Sport model has 19-inch alloys, extra chrome trim outside and Alcantara leather and aluminium trim inside. Even so, first buyers will have added a whole range of luxury extras in some cases adding well over £10,000 to the original purchase price of their car, features that now simply add to the value of buying one secondhand at a knockdown price. Look out for leather trim, the Designo two-tone upholstery with wood trim originally a £4420 option, also the electric sunroof – find one with the glass sunroof, the louvred one had a tendency to jam and is expensive to put right. Bose sound systems, perhaps with bootmounted CD autochanger, satnav and cellphone preparation were popular upgrades, some will have bi-xenon headlamps, resist one with the external spare wheel carrier, it restricts the rear view when you're driving.
With £3000 to spend you'll find yourself choosing from a wide range of early-generation cars dating from anywhere between 1999 and 2005 depending on mileage and equipment, most of them with the 2.7-litre turbodiesel engine, though for better refi nement and performance do consider one of the smoothrevving 3.2-litre or 3.7-litre petrol V6 variants. An interesting indication of how depreciation can hit luxury cars is how little dealers are willing to offer as a trade-in value on what ought to be seen as a desirable premium SUV, even more than 10 years on. As a result you'll find large numbers of higher-mileage older ML320 and ML270s being offered for sale by private sellers.
Buying privately can be advantageous if you take the usual precautions such as making sure the registration certifi cate matches the name and address of the seller and making sure it all runs well on a test drive.
The interior of the ML is unquestionably opulent, particularly in the higher-specifi cation SE versions, yet compared with the Range Rover it seems rather blandly styled. No matter, since the driving position is quite natural and controls are all well placed, higher specifi cation models featuring a whole raft of fi ngertip controls on the steering wheel, on some models this includes paddle-shift buttons for the automatic transmission.
You can't expect an old car at this price to be in perfect condition, but there was always some concern about the assembly quality of this Americanbuilt vehicle, so look for excessive sagging of the seats and attempts to hide or bodge dodgy trim and upholstery fabric. The 2.7 CRD turbodiesel is the engine of choice if economy is important, though as even with an oil-burner make sure it doesn't blow excess smoke on acceleration which could point to worn injectors or a failing turbocharger – it could equally point to an aftermarket performance upgrade, smooth, quick acceleration will tell you but reject any car that feels sluggish, hesitant or jerky.
The transmission on the turbodiesels also has to handle that low-rev torque so make sure the six-speed manual shifts smoothly and the clutch takes up progressively; similarly if the five-speed automatic is fitted check that it doesn't slur changes too much and responds properly to the Tiptronic-type override.
OFF-ROAD:
ON-ROAD:
VALUE FOR MONEY: