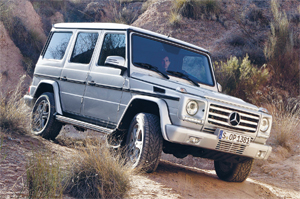 It was interesting this month that as we received the news about the latest version of the Range Rover, so did details of what many consider to be that vehicle's nemesis. Indeed, the new Mercedes-Benz G-Class (still enthusiastically called a G-Wagen by many) will soon be available in the UK.
Without doubt this is one model that can match the Range Rover in so many areas; price being a significant one. The G-Class Merc still looks much like it ever has, and for some that utilitarian, almost military, design is a touch dated. It is to the company's credit, in our view, the Mercedes-Benz engineers and designers have stuck to their guns. It is an unmistakable design, and when it arrives in the UK, it will be the most powerful model ever to be made available here.
The new Mercedes-Benz G63 AMG is hand-built, and comes with the awesome bi-turbo 5.5-litre V8 that delivers some 544bhp and a whopping 740Nm of torque (546lb ft). What is perhaps even more impressive is that the new model has C02 emissions drop to (a still significant, admittedly) 322g/km, and fuel consumption improved by 15per cent to a claimed 20.5mpg. We bet it's hard to meet that, because you'll find you right foot enjoying itself too much!
The specification of the G63 AMG is as you would expect to the highest quality, and comes with the well-established permanent 4×4, low range, plus three fully engageable differential locks. It's a 4×4 spec that Mercedes-Benz has stuck with, believing it offers the very best off-road ability. Whether someone who has paid a staggering £123,115 OTR price would dare take the majestic beast off-road is another matter! Of course, there is the 'cheaper' version, the 3-litre V6 G350 BlueTec at £82,945 for those looking for a more modest Merc… These prices are likely to be matched by the new Range Rover.
Of course, we are simply jealous that such great off-roaders are beyond our reach! And wouldn't a full, no-holds-barred, locking diff to diff, nose-to-nose battle between the latest Range Rover and this awesome G-Class be the feature you would want to read? In fact, since we couldn't wait, we have a test of the latest G-Class from our Brit abroad, Robert Pepper in next month's issue.