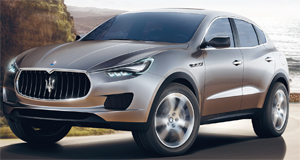 A new luxury SUV comes from perhaps the unlikely source of Italian sports car manufacturer Maserati. Although to the SUV market, the Italians are nothing if not confident of the product with the announcement claiming: "For some reason SUVs today never seem to offer the kind of uplifting driving pleasure and luxury atmosphere that are two givens of today's high-end sports and luxury cars. And this is precisely what Maserati set out to do with its new sport luxury SUV concept."
Bet that comment went down well at Land Rover, Porsche, BMW, Jeep et al….
The actual idea of a Maserati sports utility was shown at the 2003 Detroit Motor Show. The Kubang concept was not progressed. However, recent links with Jeep, may now have changed those plans, resulting in the Maserati Kubang becoming a full production model.
Maserati sports cars have a reputation for a certain style, loved by some and loathed by others, but certainly distinctive. The Kubang comes from the Maserati Style Center headed by Lorenzo Ramaciotti. The Maserati proprietary engines will be designed in Modena by Paolo Martinelli, head of the Maserati powertrain department and for nearly 30 years at Ferrari, where he also served as engine chief of the Formula One racing team. Unsurprisingly the engine will be produced in Maranello by Ferrari. An automatic eight speed transmission and specific performance settings such as suspension, brakes, steering will also be exclusively developed in Modena for the Maserati. It joins a competitive, if niche, luxury SUV market and despite the bravado, it will be interesting to see how it fairs.