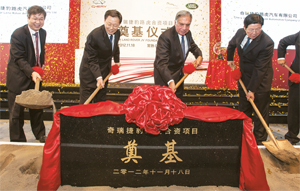 Rumoured for some time, Jaguar Land Rover has now announced that it will build 4x4s in China, probably the most significant global motor manufacturing deal for many years
Evoques and Freelanders will, it seems, be built in China with the announcement from Jaguar Land Rover and Chery Automobile Company that they have signed a joint venture to build a new production facility in Changshu, near Shanghai. Rumours of such a deal have been circulating for some time, the deal having now been given the official thumbs up from the Chinese Government, a necessary signature of approval needed for such a massive deal to go through. The multi-million pound project will include a new research and development centre and engine production facility as well as the vehicle production plant. Actual details of what will be built have yet to be announced by JLR, but the China Car Times has reported that this 50:50 joint venture, 'is likely to be limited to the highly popular Range Rover Evoque and Land Rover Freelander models, although both are expected to be highly modified for the local Chinese market'. Modifications, which could therefore involve vehicles using Chinese components, even engines. It will also be interesting to see if Chinese components make their way into European built JLR models in the future.
The new company will be known under the somewhat cumbersome title of the Chery Jaguar Land Rover Automotive Company Ltd. The facility is due to be completed in 2014, with production starting immediately – an impressive time line by any standards. JLR has already proved that the demand is there as vehicle sales to China has risen some 80 per cent during 2012. Chery is China's largest car exporter but has actually only got 15 years experience in the automotive industry.
The news may well have annoyed the recently re-elected President of the Untied States as he has been personally calling for a change in the China's Government's import quotas which have made it difficult, and costly, to export high end SUVs into the country. Indeed, China has a complicated import tax quota system, which in some cases can add over 40per cent on top of the base price. It seems, therefore, as we have said before, that JLR has decided to work from within the country in a joint partnership rather than just try to sell models into China. The market for these vehicles would certainly seem profitable, for example, the price of a new Evoque in China starts from 800,000RMB, which is over £80,000 in our money. High though this may seem, it is actually very competitive and slots in at the same level as a new Audi Q7, Porsche Cayenne and Toyota Land Cruiser. China's rapidly emerging middle classes are, it seems, prepared to pay for their 4x4s!
JLR financial reports have been released. Retail sales of 84,749 vehicles are up 29 per cent compared to the same period last year with revenues of £3.2bn, up £373m, which means a profit before tax of £431m – a whooping £215m up on the pervious period. Astonishing really.