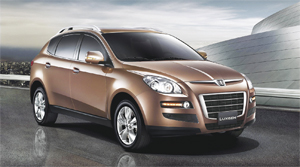 Taiwan's first passenger car brand Luxgen has launched its second model, the Luxgen7 SUV, following its successful MPV.
For the powertrain, the Luxgen7 SUV comes equipped with 10-mode, fivespeed automatic transmission with manual shifting function co-developed by Aisin. The intelligent three-mode 4WD system can actively divide engine torque between the front and rear axles based on the road condition and driver input.
It is the only vehicle in its segment to be equipped with the intelligent power actuated tailgate as standard equipment. The intelligent power tailgate can be configured to open partially.
The anti-theft sport seat is also standard equipment. When drivers press the button on the seat for three seconds before locking the doors with the remote control, the anti-theft system will activate by sliding itself forward and leaning against the steering wheel to deny unauthorised access of the vehicle.
In terms of the interior design, the Luxgen is pretty luxurious with airline first class-style surrounding head restraints together with the available heating, ventilation, electronic massage and lumbar support adjustment functions!