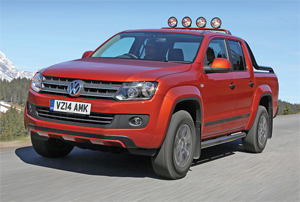 As the Land Rover Discovery announces its 25th anniversary, one of the best pick-ups on the market, and one of the few areas that has taken sales away from Jaguar Land Rover product, announced its own special edition. The Volkswagen Amarok deservedly won our 2014 Pick-up Of The Year. Now, if there was one area where we could have criticised the model slightly was in its overall looks; it exudes that Germanic functionality and technical brilliance that can leave some a little cold.
Great to see, therefore that there's now an Amarok Canyon on the market that will certainly turn heads. The model is based on the Trendline version but has a highly visible styling bar and colour-keyed underbody protection plate. It is also packed with what is claimed to be some £8500 worth of extra equipment including satnav with six inch touchscreen, Bluetooth connectivity, heated leather seats, privacy glass, front and rear parking sensors, styling bars, 19inch Cantera alloy wheels. Nappa and Vienna leather upholstery in two-tone Moonrock (light grey) Anthracite (dark grey) give the interior a quality look. You can also select a special edition Amarok roof bar for £945 (ex VAT).
The Canyon comes with Volkswagen's top of the range 2.0-litre BiTDI 178bhp engine, offering up to 420Nm of torque and a maximum towing capacity of 3200kg. There will only be 350 Canyons built; 50 with the six-speed manual with selectable 4MOTION, and 300 with the excellent eight-speed automatic gearbox and permanent 4MOTION.
Of course, this doesn't come cheap! The Amarok Canyon starts at £28,990 (ex VAT) for the manual versions and £30,720 (ex VAT) for the automatic transmissions. The Amarok Canyon models are now available, and we suspect that the 350 models will be snapped up pretty quickly.