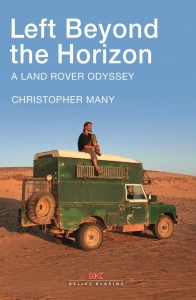 Charting the amazing story of Christopher Many's 125,000-mile, eight-and-a-half-year adventure, Left Beyond the Horizon chronicles his inspirational journey around the world in his trusty 1975 Series III Land Rover, Matilda.
Between 2002 and 2010, Christopher's unforgettable exploration off the beaten track took him from the Scottish Highlands, through Scandinavia and the frozen wastelands of Siberia, and then across Asia. That was before traversing the Pacific Ocean to North and South America, then over the Atlantic, allowing him to drive through Africa and back up to Europe – all to find out what makes the Earth 'tick'.
In the year that saw the wheels stop turning on the iconic Land Rover Defender's production line, the unshakable robustness and durability of Matilda is a fitting tribute to the much-loved British vehicle. No stranger to tough expeditions herself, Matilda started life being thrown out of a plane as part of the UK's Parachute Regiment before Chris purchased her from a Scottish farmer for £700.
From the rat burgers of Laos, to mouth-to-mouth with a hyena in Africa, Chris' journey saw him and Matilda endure temperature extremes from -51°C in Siberia to 55+°C in the Mojave Desert. That was as well as battling the potholes of Columbia, brake failures on Bolivia's Death Road and Matilda's chassis completely snapping in half in Africa.
Left Beyond the Horizon is a thought-provoking, unflinching and fascinating account in which Christopher paints a vivid picture of his adventures, detailing the amazing people he encountered, the unusual situations he found himself in and the geographical and cultural landscapes he experienced. He chronicles the philosophical conundrums, rollercoaster emotions, first-hand observations and Land Rover breakdowns (1,667 to be precise) that his nearly decade-long passage through 100 countries brought.
Written in his own personable and affectionate style full of passion, honesty and enthusiasm, Left Beyond the Horizon is an enthralling and often laugh-out-loud examination of human culture around the world, in all its guises.
Part lexicon on global affairs, part darkly witty travel journal, it is sure to entice and excite a variety of different readers, from overlanding fans and Land Rover fanatics, to armchair travellers and hardcore globetrotters.
And the whereabouts of Chris now? Last we heard he is somewhere between Indonesia and Australia, this time travelling with Puck the motorcycle (and his girlfriend, Laura).
The book can be purchased from Amazon by following this link.
To find out more about the man himself, visit:
http://christopher-many.com/en
https://www.facebook.com/Hinter.dem.Horizont.links/