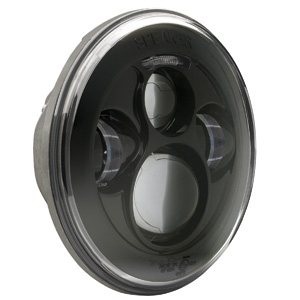 New from the mobilecentre is a LED headlight with a Front Position Light (sidelight) in addition to the High and Low beam functions. The headlight is available in both Left Hand Traffic and Right Hand Traffic specification with either a black or chrome internal bezel.
It's fully ECE approved by the VCA for use within Europe and is MOT compliant without the fitment of levelling or washing. Complete with four year warranty, the list price is £475 each (+VAT) for black and £500 (+VAT) for chrome.
Direct replacement for:
Defender
SVX
Fire & ICE
XTEC
And other Defender limited additions that have the position lamp integral to the headlight.
Jeep
CJ C5 1955 > 1983
C6 1955 > 1971
C7 1976 > 1986
C8 1955 > 1984
Wrangler TJ 1996 > 2007
Wrangler JK 2007 >
Wrangler Unlimited 2007 >
---
Available from www.mobilecentre.co.uk
Tel +44 844 578 1000 or various independent specialists.
Talk to them on the phone +44 844 578 1000
Find them on Facebook www.facebook.com/mobilecentre
Follow them on twitter http://twitter.com/mobilecentre