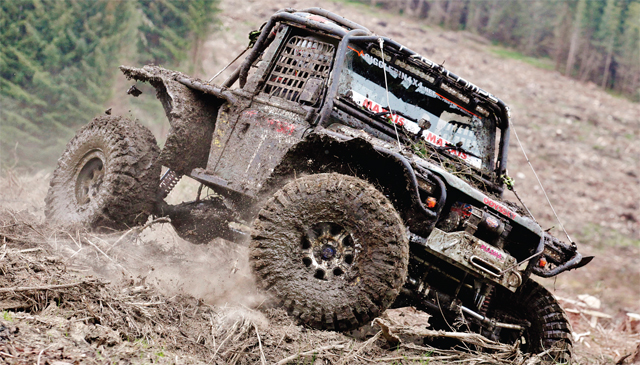 Pay and Play Sites | Organised Drives
Click here to add your event for free.
SEPTEMBER
27
ADVENTURE OVERLAND
This is the UK's major overland event for adventure travel and bushcraft. Highly recommended if you want to learn more! Entry and camping available online, go to: www.adventureoverlandshow.com. Or call Tom McGuigan on 02476 731971. See panel for more details.
27/28
PAY AND PLAY DAYS
NEW FOREST
Muddy Bottom 4×4 Camping weekend. Includes two-day competition, all 4x4s welcome. Camping on Sat evening with campfire – only £40 per vehicle. Call for more details 07754 940783 / 07801 088203
28
PAY AND PLAY DAYS
DERBYSHIRE
Trans Pennine Off Road
WEST SUSSEX
Slindon Safari
COUNTY DURHAM
Kirston Off-Road Centre
OCTOBER
5
PAY AND PLAY DAYS
GWYNEDD
Bala Off Road Llannerch yr Eryr
BEDFORDSHIRE
Devil's Pit
12
PAY AND PLAY DAYS
WEST SUSSEX
Boxgrove 4×4
ESSEX
Essex, Rochford and District
BERKSHIRE
Harbour Hill
WEST YORKSHIRE
Parkwood (Tong)
ORGANISED DRIVE
NORTH WALES
Landcraft 4×4
Snowdonia Adventure Drives. Excellent organised Drives through some great lanes in Snowdonia. Call David Mitchell of Landcraft 4×4 on 01678 520820 or check out: www.landcraft4x4.co.uk
19
PAY AND PLAY DAYS
BEDFORDSHIRE
Here are some of the best places to go off-road in the UK. We would always advise that your call to check dates and times. If you have a site that ought to be included, email us on 4×[email protected] and mark your email 4×4 PAY AND PLAY
4X4 SAFARI
Green laning trips from one day to two weeks. Start and finish close to Penrith (access to M6 Jct. 40). A day long tour of the lanes and tracks in and around the Lake District National Park. Standard vehicles with road tyres will be able to complete this whole day. £45 per vehicle. Contact for details or to book [email protected] or call: 07711 231417. Check out our Facebook page: 4x4Safari.
THE 4X4 SOLUTIONS
The 4×4 Solutions is set within the grounds of The Hop Farm, Paddock Wood, Kent. Primarily a BORDA 4×4, Quad/ATV and winch training centre, with a purpose made off-road course and a large woodland track. They also have Pay and Play days and club days regularly through the month (check website for more info on dates) with instructors on hand for help/advice. They have their own club that is free to join for a limited time, giving you access to the club days. Varying terrain suitable for novice to expert. They also have camping and survival weekends, with night drives and BBQs. On site they also have paintball, kids activities and tree jumpers with zip wires. Vehicle wash facilities along with shower and toilet facilities, clubhouse for tea and coffee. Call Simon 07717 203085 Email: [email protected] www.the4x4solutions.com
ASH 4X4
Ash 4×4 Ltd have a new Pay and Play site at Chirk Quarry, LL14 5AH, near Shrewsbury. Check the website as the venue may vary between Hawkstone Park and Chirk Quarry. There are no toilets, food or other amenities, just very good off-roading. Call Billy Hilton on 07581 030331 or go to the website on: www.ash4x4.com
AVALANCHE ADVENTURE
Run by Avalanche Adventure, this venue is at Sibbercroft, near Market Harborough. Pay and Play days and other 4×4/off-road activities.
Give them a call on 01858 880613 or look for more details on www.avalancheadventure.co.uk
BALA OFFROAD LLANNERCH yr ERYR
The Llannerch yr Eryr farm and off-road site is a very popular and well-known pay and play site with climbs and slopes, water holes and all types of terrain. Spectacular views over Bala lake and surrounding mountains. Always ring to check the weather in the winter months. £30 a day, £20 after 1pm.
Call: 07850 800709.
www.balaoffroad.co.uk
BLUE LIGHT OFF ROAD CLUB
This off-road club operates in southern England, and is open to all 4x4s. Prices vary, but usually £45 per vehicle and the Pay and Play site is often at the Army Training area at Bagshot, Surrey. Go to www.bluelightoffroadclub.co.uk or contact John Amos on 07805 656947 or email: [email protected]
BOXGROVE 4X4
Boxgrove 4×4, Tinwood Lane, Boxgrove, near Chichester, West Sussex. Huge 80-acre site of mud and gravel tracks and woodland. Something for everyone from the easy to the extreme, all routes clearly marked. Catering and toilets. £20 per vehicle. Quads are welcome, £10 per rider, all riders must be 16+ and there's a 10mph speed limit. There's a 2.2 mile trail around the site's perimeter. £3 spectator parking.
Call: 01903 812195 or 07802 582825
Email: [email protected]
www.4x4driving.co.uk
DEVIL'S PIT
Devil's Pit is 60 acres of different courses (novice, experienced and expert) at Barton-Le-Clay, Nr Luton, MK45 4LG (A6) Bedfordshire (OS Grid ref: TL078297). The cost is £26 per vehicle, and everyone must wear seatbelts. Children (under 16) are free. Opening times are 9:30am – 4:30pm. Toilets and catering, first aid and recovery facilities. Spectators are welcome.
Tel: 01582 883349
www.devilspit.co.uk
Email: [email protected]
ESSEX, ROCHFORD & DISTRICT 4X4
Essex, Rochford & District 4×4 Club have a 4×4 site located on Creeksea Ferry Road, Canewdon, Essex, open on the second Sunday of every month and both members and non-members are welcome. Membership costs £30 a year and the Pay and Play Day costs are £20 each for members and £30 for non-members. There is a jet wash, toilets, burger van, plus roaming stewards with well-equipped vehicles to help where necessary. The club has a friendly atmosphere, check out: www.4x4er.co.uk
FRICKLEY OFF-ROAD CENTRE
Frickley off-road centre is near Doncaster in South Yorkshire (DN5 7BU) and includes climbs, hollows, woodland and rock climbs suitable for the novice to the experienced off-roader. £25 per vehicle, all road-legal 4x4s welcome.
Call Charlie: 07836 544335
Email: [email protected]
www.frickley4x4.co.uk
HARBOUR HILL
Harbour Hill, near Aldermaston A340. Non-members £30 (£10 membership, £20 for the day). Wheel washing, catering and toilets available.
Call: 07887 533168
Email: [email protected]
www.4×4-withoutaclub.co.uk
KIRTON OFF-ROAD CENTRE
Kirton Off Road Centre is a massive 600 acre site near Kirton Lyndsey, Lincolnshire DN21 4JH. Standard days are £40, and there are often camping weekends at £75 inclusive, check website or call for more details.
Call Paul: 07907 450974
Email: [email protected]
www.kirtonoffroadcentre.co.uk
LANDCRAFT
Offering the chance to get to some superb parts of Snowdonia, David Mitchell's experienced outfit offer some great Adventure drives, and for those more adventurous, there's always Adventure Plus. Paying on the day is £60 (inc VAT), pre-book and save £10. Call 07831 258864
Email: [email protected] www.landcraft4x4.co.uk
PARKWOOD 4X4 (TONG)
Parkwood is at Tong village, Bradford, West Yorkshire, BD4 0RR. Open 10-4pm, catering, toilets, first aid, vehicle wash, £35.00 per vehicle including passengers – providing that there are correct fitting seatbelts.
Call: 0113 285 4356
Email: [email protected] www.parkwood4x4.co.uk

SILVERDALE
Explore Off-road's site at Haying Wood, Silverdale, Stoke-on-Trent, ST5 6QQ has 53 acres of steep wooded tracks, water holes and mud! £25 per vehicle. Open from 10am until 4pm, road taxed vehicles only. Tel 07970 286881. Email: [email protected] www.exploreoffroad.com
SLINDON SAFARI
Slindon Safari, near Arundel, West Sussex, 10.00-16.00 hours; £30 per vehicle, £3 spectators, Quads welcome, £10, all riders 16+ and there's a 10mph speed limit. Routes for beginners and more advanced.
Call: 01903 812195 or 07802 582826
Email: [email protected]
www.4x4driving.co.uk
TRANS PENNINE OFF ROAD EVENTS
Club runs Pay and Play sites at various venues in Derbyshire including Holymoorside, near Chesterfield, S42 7EG; Biggin Quarry, Ashborne, DE6 1QU and Padley Wood Farm, S45 8EL. Gates open at 9.00am and costs are £20 per vehicle. Catering and toilet facilities. Email [email protected]
ALL WHEEL DRIVE CLUB Drivearounds
The All Wheel Drive Club run regular 'Drivearounds', which are a great place to start if you're new to off-roading and just wanting to start to dip your toe in the mud! That said, these popular events also attract more experienced drivers who enjoy exploring the often large sites. One of the AWDC's very popular Drivearounds is held on one of the Army's three Bordon sites, just off the A325 south of Farnham. All welcome, from novices upwards. If you want to dip a toe, why not come down and have a look, perhaps a ride with us and take it from there? Membership required at £35 pa and £30 per event. You can join on the day. Catering and toilets on site. Camping from Saturday afternoon. Always phone to confirm!
Call: 07970 926337 or check out the AWDC's excellent website: www.awdc.co.uk
SNOWDONIA LAND ROVER EXPERIENCE
Off road with the guys at LRE Snowdonia, driving through the beautiful mountains and forests of North Wales. Starting from the Bala area, it will take you through the stunning scenery with spectacular views and great tracks all on private land, only available to LRE Snowdonia. All LRs taking part must be fully road legal and all drivers hold the appropriate driving licence. The cost for the Snowdonia 4×4 Adventure is £50 per vehicle and payment must be made in advance.
For more details, call: 0844 848 4461.
Email: [email protected]
www.lresnowdonia.co.uk
YORKSHIRE 4X4 TOURS
Yorkshire 4×4 Tours create unique 4×4 trips around what they call 'Gods Own Country'. You will see breath-taking countryside, discover special places off the beaten track and enjoy the best of what this great county has to offer. Whatever the time of year, you will find their trips a rewarding and memorable experience. Whether it's a pre-planned tour or group event or a tailored bespoke short break we'll have something to suit your style and taste of adventure…
Call: 01430 431134
Email: [email protected]
www.yorkshire4x4tours.com
ukLANDROVERevents
Guided green lane tours all year round, in various locations, especially around Yorkshire. They run in excess of 35 tours a year, with events running almost every weekend. Full details of this year's events can be found on the website. Single day events cost just £49 per vehicle, regardless of how many passengers are included. This price is for customers who wish to bring along their own Land Rover. Customers can also hire a fully prepared Land Rover Defender 110 Tdci County Utility Wagon.
For full details and costs call 07787 555060
Email: [email protected]
www.ukLANDROVERevents.com