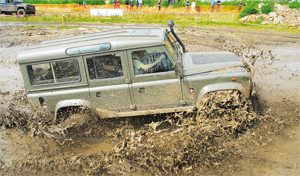 This year the second LAND ROVERmax show will be held at Stoneleigh Park, Warwickshire, over the summer Bank holiday from Saturday 28th to Monday 30th August.
As well as rare and modi_ ed Land Rovers, visitors will also get the opportunity to drive their own Land Rover on an off-road course that was originally designed by Land Rover and features a challenging route through dense woods. A one-hour driving session will cost £12 and plenty of off-road marshals will be on hand to offer advice on how to handle the terrain.
In the main arena there will be parades of classic Land Rovers, as well as demonstrations on skills such as winching, stunt driving, etc while children can enjoy a dedicated fun area, rides and activities as well as free entry.
Camping and caravanning facilities are on offer from Wednesday 25th August with discos and live entertainment over the weekend. Visitors can make the most of the Bank Holiday at a bargain rate, with family camping and caravanning pitch fees starting at £60 for the weekend, including show entrance tickets.
LAND ROVERmax is open from 09.00hrs until 17.30hrs. Day Tickets are available at £10 for adults in advance and £14 on the day. Entry for kids is free. Weekend tickets (covering the three show days but no camping) are £25 and available in advance only. Car parking is free and all show visitors receive a free show programme.
Campers and caravanners can stay for three to six nights. Starting at £20 per night, pitch fees include entrance tickets into the show for either two adults and up to four children or three adults, with the option to buy extra day tickets. The camping area will be open to visitors from Wednesday until Tuesday morning with three nights for £60 or take nearly a week with six nights for £120.
As well as trade stands, there will be an Autojumble and an arena with live action, including the Bolddog Lings Freestyle Team and its motorcycle stunt show. The nationally acclaimed team will bring the largest and most sophisticated truck and landing ramp in the world.
Call the ticket and camping hotline on 020 7907 6329. Visit the website www. landrovermax.com for further updates.