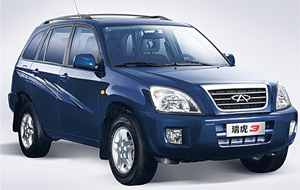 Jaguar Land Rover has reached an agreement with the Chery Automobile Company on a proposed joint venture in China. This is a significant move by JLR and the joint venture is said to include manufacture of JLR branded vehicles, engine manufacturing and the establishment of a brand new research and development facility.
Chery Automobile is actually a relatively 'new' car manufacturer, having only been founded in 1997, so linking with a premium brand like JLR must represent a significant step forward in the company's development. In 2011 Chery products (which include cars, SUVs as well as engines and transmissions) saw the company record sales of 643,000 units, making the company the sixth biggest in China.
Some of their sales have been to Australia and Italy, where Chery has a growing dealer network and sells both cars and SUVs like the Tiggo (pictured) described recently by the China Car Times as "possibly inspired by the Toyota RAV4". Inspired? That's one word for it. This joint venture does, one can presume, avoid JLR losing sales to future vehicles "inspired" by models like the Evoque or the new forthcoming DC100…
Even before this agreement, JLR sales in China have grown significantly over the last six years. Back in 2005, JLR sales in China amounted to a modest one per cent of the company's total. Last year, however, that had rocketed 60 per cent to around 42,000 vehicles. You can reasonably assume that this joint venture can only see that figure rise further in the coming years.