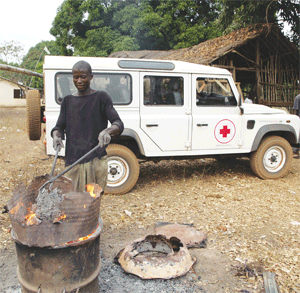 Land Rover and the International Federation of Red Cross and Red Crescent Societies (IFRC) has launched a new global initiative, under the theme 'Reaching Vulnerable People Around the World'. Over the next three years, Land Rover has committed to help national Red Cross or Red Crescent societies implement or step up priority programmes in 15 countries, with a particular focus on two extensive humanitarian programmes in Sierra Leone and China.
In addition, and in response to the worsening situation in Pakistan affecting over 14 million people in an area equivalent to the size of the UK, Land Rover is donating six Defender 110 station wagons to the Pakistan Red Crescent Society to help its disaster relief operation. Many roads and bridges have been badly damaged; leaving many areas cut off from normal transport links. The vehicles will be used to deliver aid in the form of food, clean water, shelter and medical supplies to thousands of people in need in the most remote and cut-off communities. Jaguar Land Rover employees have also been raising money to support the relief operation through the British Red Cross.
Land Rover's support will enable the Sierra Leone Red Cross Society to reach remote communities, improve access to health care and safe water, and support young people affected by civil war.