Even Land Rovers reach the end of their lives, but they often yield some useful parts that help other Land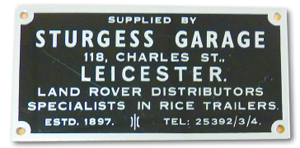 Rovers carry on giving service and enjoyment to their owners. In fact, a huge industry supports the restoration of old Land Rovers with the dismantling and reconditioning of parts and general enhancements that make an old Land Rover more suited to 21st Century driving.
Franchised Land Rover retailer Sturgess of Leicester is on a quest to help put the finishing touches to any restoration that might be taking place on any old Land Rovers that its dealership has sold.
Sturgess is one of the world's oldest Land Rover retailers having held the franchise from the original 1948 launch and before that from 1904 when appointed as a Rover agent; in fact, the company is still in family ownership. From the 1950s until the 1980s Sturgess fitted small 'Supplied by' plates to the rear of all Land Rovers and some early Range Rovers.
Every so often the team gets a letter or email from someone restoring a Land Rover that started its life in Leicester and they need to replace a badly worn or damaged 'Supplied by' plate. As there is no stock of these old plates, Sturgess is aiming to set up an exchange service to help restorers put the finishing touches to their projects.
If anyone has a 'Supplied by' plate that is on or has come off a Land Rover that is being dismantled for spare parts, Sturgess will pay £20 for that plate and then match that amount with a donation to Help for Heroes. Plates need to be in good condition and when submitting, a notification of the chassis number and/or registration number of the donor vehicle would be very useful.
Over the 30 years these plates were used, they came in three different types, an aluminium rectangular plate, an oval cast aluminium plate and a printed aluminium plate; two of the types of plate are illustrated.
Please email Sturgess of Leicester at [email protected] or write to Archive Dept., Sturgess Of Leicester, 445 Narborough Road, Leicester, LE3 2RE.