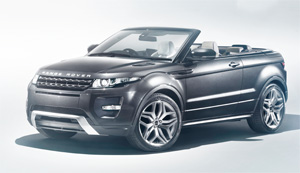 WHEN YOU CONSIDER that original four-wheel drive vehicles were open-topped, convertibles even, it's interesting that there are so few such models on the market these days. It all started with 'jeep' 4x4s, and it is really only Jeep (the manufacturer) that still offers full open-topped off-roading with the Wrangler. Even Suzuki gave up a few years ago when first the SJ, and then the Vitara stopped producing wind-in-the-hair versions. Are times about to change, we wonder?
News comes that Land Rover is unveiling a convertible version of the Evoque at this year's Geneva Motor Show and this will be alongside a revitalised SsangYong which will also have a concept 4×4 on display, and it too, is a convertible. Initial promotional pictures of the SsangYong XIV-2 are understandably 'dark and moody', but it's clear that the vehicle will have a full length folding roof.
There have been rumours of a 300+bhp 'performance' Evoque for some time and so it's perhaps no surprise that JLR is showing what the company is claiming would be, "the world's first premium convertible". This design unveiling follows close on the 'Defender concept' DC100 model which also has a Sport, open-topped version. For some, the DC100 Sport does look a little too much like a Thunderbirds model, but the Evoque is different – although these initial pictures are a little disappointing, and the model seems to have lost the distinctive rising waistline. The majority of UK orders for the Evoque have included the Panarama glass roof option, which indicates that there would be a market for a completely open version. At present, the official line is, "no production plans confirmed", but you can take that with a pinch of salt. Modern day computerised manufacturing techniques make different versions a whole lot easier to design. You do have to wonder what else is locked away on Jaguar Land Rover design chief Gerry McGovern's laptop, don't you…?