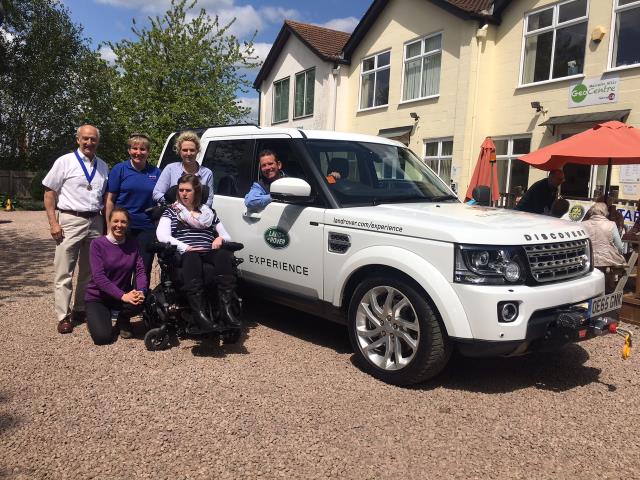 Land Rover Experience Eastnor has announced its formation of a new partnership with the Malvern Rotary Club to give access to less able members of the community to the summit of the Malvern Hills.
The team from Eastnor took nine less able members of the local community in Land Rover Discoverys to the 1395 ft summit of the Malvern Hills, The Worcestershire Beacon. Until now the opportunity to go up the Malvern Hills had been a lifelong dream for these nine guests.
The Malvern Rotary Club approached Land Rover to support its programme of giving access to the hills due to the all-terrain capability of its vehicles and the off-road expertise of the Land Rover Experience Instructors based at Eastnor Castle. The trip provides easy access to seven seats and a 40 minute comfortable ride on challenging terrain to the summit. The Discoverys' panoramic roofs allow guests to take in the magnificent views of The Malvern Hills on their journey up to the summit.
David Griffiths, Venue Manager at Land Rover Experience Eastnor said: "Land Rover has a proud heritage of using its vehicles to get people in and out of inaccessible environments.
Land Rover has used the Eastnor Estate on the eastern end of the Malvern Hills for over 50 years and to be able to use our Discoverys for this project is very much what Land Rover Experience is all about."
Liz Armstrong who attended with her daughter who is confined to a wheelchair said: "Jannah is realising her dreams one by one and today, with the help of Land Rover she's reaching the top of Malvern Hills; a dream she's had since childhood. When teams get together it's amazing what can be achieved.
"Jannah, her sister Rosie and I are achieving goals together, it's amazing." 
The programme contributes to Land Rover's Global CSR Programme which will make a positive impact on the lives of 12 million people by 2020 through initiatives supporting education and talent, health and well-being, and design and technology for social good.  Land Rover Experience, Eastnor and the Malvern Hills Conservators have succeeded in creating a bespoke off-road trail that is not damaging to the iconic Malvern Hills.
Following this inaugural trip, Malvern Rotary Club will be inviting applications from suitable candidates to join one of two outings later in the year.
For more details, terms and conditions and an application form see www.malvernrotaryevents.org