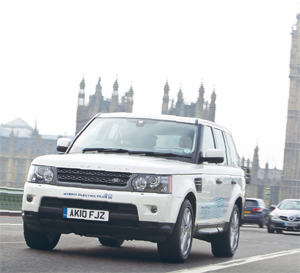 Land Rover has entered three concept Range_e 4wd Plug-In Diesel Hybrids in the RAC Future Car Challenge 2011, the company's first opportunity to showcase three of its Range_e concept models in the UK. This is a new motoring challenge for Electric, Hybrid and Low-Emission ICE vehicles to use the lowest energy on a 60-mile route from Madeira Drive, Brighton to Pall Mall and Regent Street, London and will take place on the 5th November.
The Range_e has an advanced plug-in hybrid diesel-electric power train that Land Rover expects to make available in future production models, following the scheduled launch of its diesel-electric hybrid in 2013.
This project is supported by the UK Government's Technology Strategy Board and five prototype models are currently engaged in a test programme with Land Rover's fellow members of the CABLED – Coventry and Birmingham Low Emissions Demonstrators – consortium. It seems that Land Rover believes that its plug-in hybrid system will be brought to market in the near future, following on from the debut of its first standard diesel-electric hybrid models from 2013.