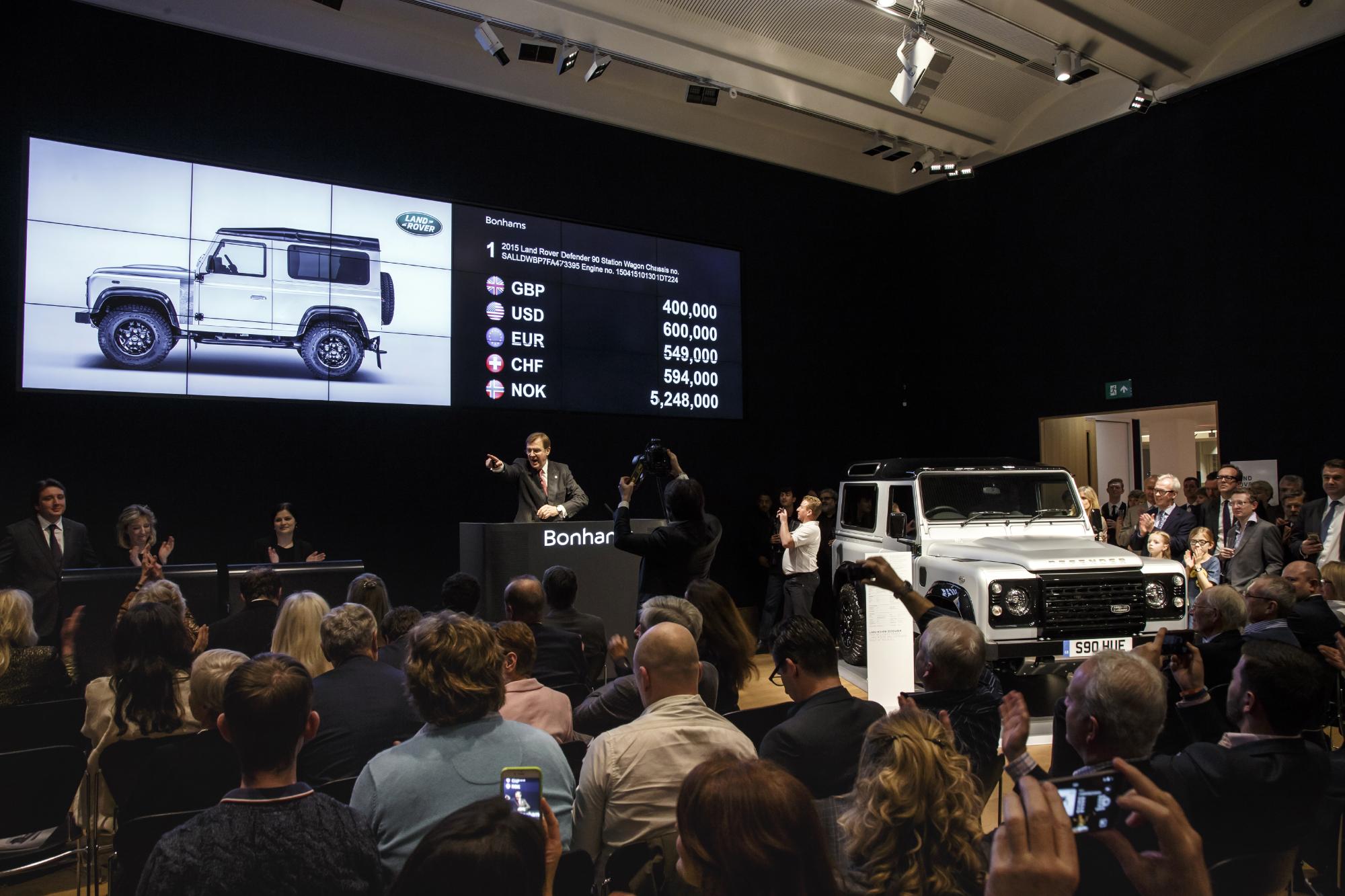 A one-of-a-kind Land Rover Defender sold for a record £400,000 at a prestigious charity auction at Bonhams, from which all proceeds are being donated to Land Rover's humanitarian and conservation partners. This is the thought to be the most valuable production Land Rover ever to be sold at auction.
The unique vehicle, the two-millionth of the iconic Series Land Rover and Defender models manufactured at Land Rover's Solihull plant since 1948, was sold to a bidder from Qatar. The vehicle was built in May 2015 by an all-star cast of brand ambassadors and people from Land Rover's history including Bear Grylls, Virginia McKenna OBE and Stephen and Nick Wilks, sons of the founders of Land Rover.
All proceeds from the sale will be donated to Land Rover's humanitarian and conservation partners: the International Federation of Red Cross and Red Crescent Societies (IFRC), who will use the donation to help communities in South-East Nepal to improve how they tackle natural disasters, and the Born Free Foundation who plan to use the funds to support the 'Project Lion Rover' wildlife conservation initiative in Meru National Park, Kenya. The project provides critical equipment to help protect lions and other wildlife and establishes education and community involvement to tackle issues such as snaring and poaching.
The vehicle, built as part of a year of celebrations for the much loved 4×4 which will cease manufacturing in Solihull in January 2016, boasts a host of distinctive and bespoke finishing features including an engraved map of Red Wharf Bay – where the design for the original Land Rover was first drawn in the sand, and a unique 'no 2,000,000' badge. Inside, the leather seats also feature the 'Red Wharf Bay' graphic and 'no 2,000,000' logos have been stitched on the headrests. A bespoke aluminium plaque, signed by everyone who helped to assemble the vehicle is fitted to the driver's seat. Special S90 HUE registration plates provide a fitting tribute to the first ever pre-production Land Rover, registration 'HUE 166'.