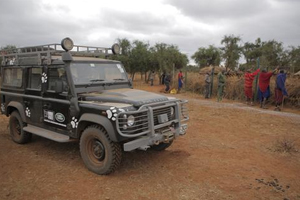 Land Rover has renewed the sponsorship agreement with the Born Free Foundation, continuing its successful Global Conservation Partnership first forged in 2002 and confirming Born Free as its primary global conservation partner.
The origin of Land Rover's historic association with Born Free dates back to 1966 when Land Rover vehicles were featured in the classic wildlife film Born Free, starring the Foundation's founders, Virginia McKenna and Bill Travers. The requirement was then as it is now, using Land Rover vehicles to reach wildlife in the most remote locations.
The new sponsorship programme will see Land Rover vehicles deployed by the Born Free Foundation in Kenya, India and South Africa where they support the charity's vital field work. Additional support will assist conservation and wild animal welfare initiatives in other parts of Africa and southern Asia, while in the UK, where the charity is based, Born Free Land Rovers assist with logistical support and charity ambassador duties.
Land Rover's partnership will help sustain some of the Foundation's most important projects. In Kenya, a fleet of Land Rover Defenders enables its teams, working with the Kenya Wildlife Service, to reach remote areas to apprehend poachers and remove deadly traps. During times of severe drought, the Land Rovers have also provided a lifeline, bringing food to animals in danger of starvation.
In Ethiopia Land Rover Defenders are deployed as part of the Born Free Foundation's efforts to protect the world's rarest wolf species, while in South Africa the vehicles are essential tools for the team at its two Big Cat Rescue Centres, based at Shamwari, Eastern Cape. Further support vehicles help make a difference in Malawi, where the Foundation helps rehabilitate monkeys rescued from the illegal pet trade, and in Sri Lanka, where a specially-modified Defender is able to reach and rescue orphaned baby elephants and other animals from the most challenging locations.
For more information about the Born Free Foundation and its worldwide activities visit www.bornfree.org.uk