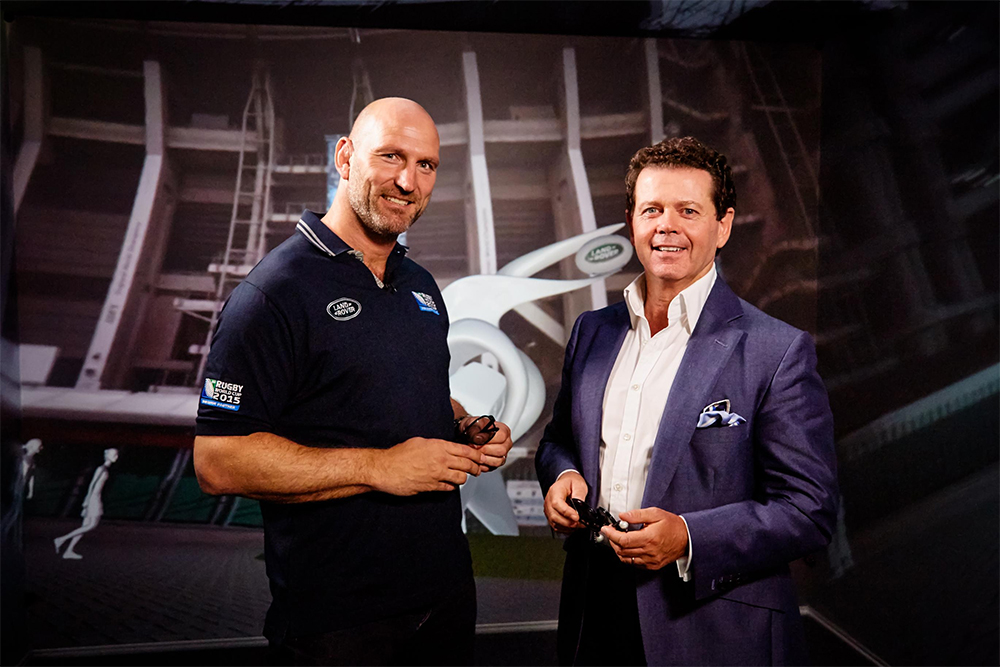 Land Rover has previewed The Catch, a dramatic new sculpture to celebrate the 2015 Rugby World Cup. Measuring over 8m tall, it will serve as a meeting point for fans at Twickenham Stadium, London and the Millennium Stadium, Cardiff. Representing the fusion of art, automotive design and sport, it is the second piece in a collaboration between Land Rover's Design Director and Chief Creative Officer, Gerry McGovern, and the acclaimed Italian artist Nino Mustica, which began with last year's critically acclaimed Unstoppable Spirit (www.unstoppablespirit.com).
The Catch was inspired by the line out, one of the most iconic moments in rugby that demands a unique combination of power and finesse. Lawrence Dallaglio, a 2003 Rugby World Cup winner, acted as a consultant to the project, visiting Land Rover's technical centre in Gaydon, England, to discuss with McGovern the unique characteristics of the line out. Throughout his career Dallaglio, who won 85 England caps, was recognised as a leading exponent of the skill, making him the ideal person to advise on a project that interprets the line out in a new way.
Dallaglio says: "With its unique combination of power, precision and control, the line out has always been one of my favourite elements of the game. It was fascinating to spend time in Land Rover's Virtual Reality Cave, discussing the dynamics of the line out and witnessing first hand the development of The Catch. I'm sure it will become a memorable meeting point for fans at Twickenham and the Millennium Stadium and add to the excitement of the Rugby World Cup."
"As an Englishman, I'll never forget the Rugby World Cup Final of 2003," says McGovern, "and it's been fascinating to spend time with Lawrence and learn more about the unique challenge of the line out. The combination of power and control is something that's echoed in everything we do at Land Rover. I'm also delighted to be working with Nino Mustica again, an artist with an extraordinary ability to reinterpret traditional themes in a new and intriguing way. I hope fans from across the world will agree that together we've created not just a meeting point, but a fascinating piece of art."
McGovern, Dallaglio and Mustica will reveal the first sculpture in the Fan Zone at Twickenham, England on September 16th. The second sculpture will debut at the Millennium Stadium in Wales on September 19th. Both will be in place for the duration of the Rugby World Cup.