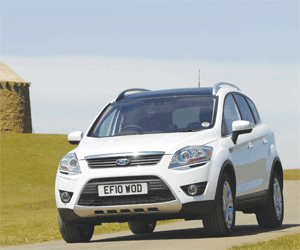 The Ford Kuga is now available with a new 161bhp 2.0-litre Duratorq TDCi engine which delivers improved low-end response, increased power and superior refinement along with a significant reduction in fuel consumption and CO2 emissions.
With 20 per cent more peak power, the new engine with manual transmission now achieves a top speed that's increased from 112 to 121mph and an acceleration time of 0-62mph cut from 10.7 to 9.6 seconds. There is a broader spread of torque with the maximum of 251lb ft delivered between 2000 and 3250rpm and much stronger responses below 2000rpm.
The Duratorq TDCi unit achieves a combined fuel consumption of 47.1mpg and CO2 emissions are reduced to 159g/ km. An acoustic windscreen reduces wind noise, aided by an improved sound deadening package within the cabin and luggage compartment.
The updated Kuga range also features a 138bhp derivative of the new 2.0-litre Duratorq TDCi engine, which benefits from the same enhancements to fuel economy and emissions.
Kuga AWD models with either Duratorq TDCi engine can be specified with the advanced Ford PowerShift six-speed dual-clutch automatic transmission.
The updated Kuga range is on sale now from £20,495.