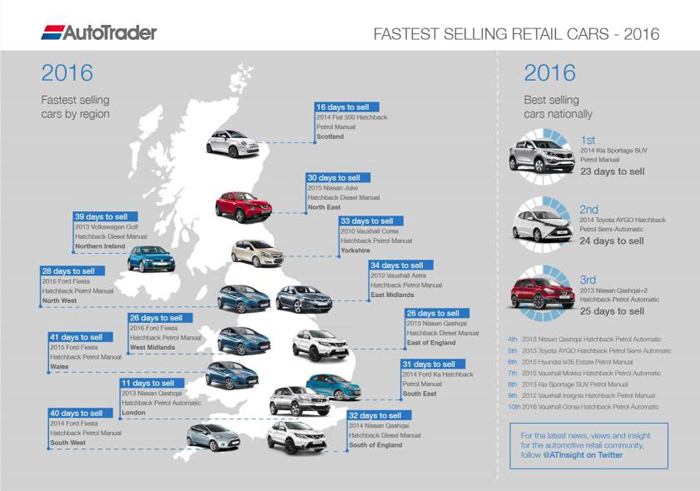 Auto Trader has announced the top ten fastest selling used cars of 2016, with Kia's 2014 Sportage taking the top spot. It took an average of just 23 days for the compact SUV to leave the forecourt.
The Korean company provides a seven-year warranty on all its new cars. This means that even with a 2014 model buyers can enjoy five years of the manufacturers' warranty, which would have contributed to the Sportage's huge appeal with used car buyers last year.
The Kia was followed into second place by the Toyota AYGO (2014), which took an average of 24 days to sell, and Nissan's Qashqai +2 (2013) coming in third, with 25 days.
Surprisingly, the Ford Fiesta, which was identified as the UK's fastest selling used car in 2015, didn't make it onto 2016's top ten list.
Karolina Edwards-Smajda, Auto Trader Retailer & Consumer Products Director, said: "It's not a surprise that the fantastic Kia Sportage took 2016's crown for the UK's fastest selling car. It's performed exceptionally well throughout the year and during a period of turbulence the Sportage, with Kia's seven-year warranty, represents exceptional value for money and real peace of mind."
"Despite the turbulence in 2016, consumer confidence has remained extremely strong which has been reflected in both used and new car sales. Whilst undoubtedly 2017 will see some real challenges for the industry, with greater deals and financing options available we can expect the used car market to remain buoyant."
The UK's Top 10 Fastest Selling Cars in 2016:
| | | | | |
| --- | --- | --- | --- | --- |
| Rank | Description | Average Days to Sell | Average Price Position | Average Retail Price |
| 1 | 2014 Kia Sportage SUV Petrol Manual | 23 | 99.40% | £13,680 |
| 2 | 2014 Toyota AYGO Hatchback Petrol Semi-Automatic | 24 | 98.91% | £6,969 |
| 3 | 2013 Nissan Qashqai +2 Hatchback Petrol Automatic | 25 | 98.76% | £14,385 |
| 4 | 2013 Nissan Qashqai +2 Hatchback Petrol Automatic | 27 | 98.82% | £12,663 |
| 5 | 2013 Toyota AYGO Hatchback Petrol Semi-Automatic | 27 | 99.01% | £5,910 |
| 6 | 2015 Hyundai ix35 | 27 | 98.63% | £13,229 |
| 7 | 2015 Vauxhall Mokka Hatchback Petrol Automatic | 29 | 99.63% | £13,785 |
| 8 | 2013 Kia Sportage SUV Petrol Manual | 29 | 99.12% | £12,445 |
| 9 | 2012 Vauxhall Insignia Hatchback Petrol Manual | 29 | 98.31% | £6,675 |
| 10 | 2016 Vauxhall Corsa Hatchback Petrol Automatic | 29 | 100.58% | £11,018 |