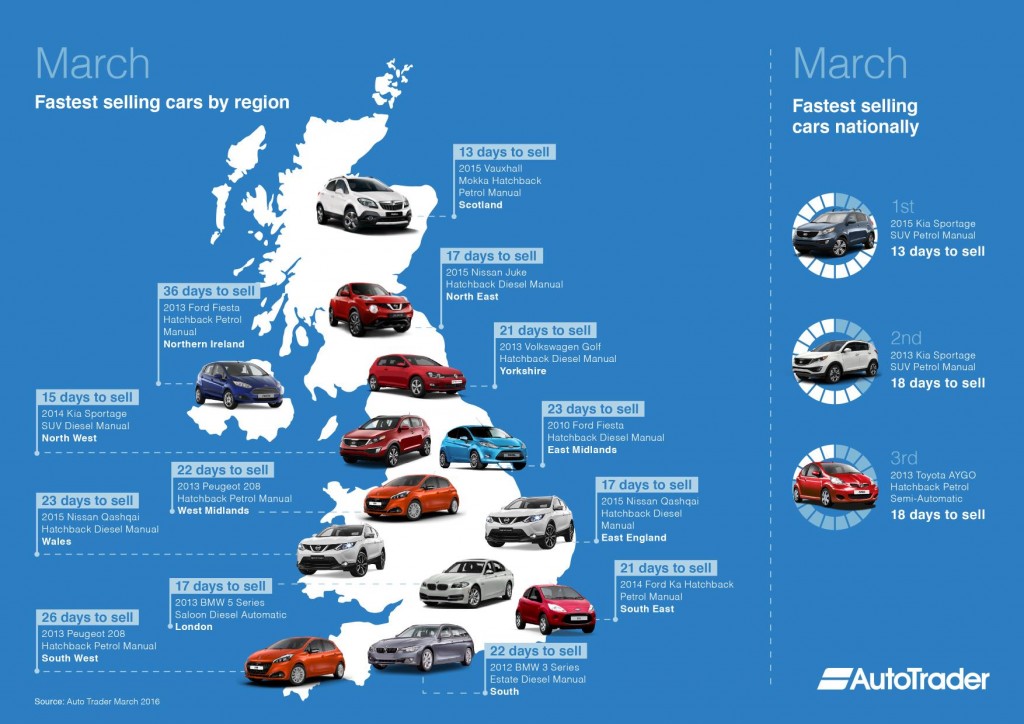 The Kia Sportage proved to be a real hot choice for buyers as it rocketed off the UK's forecourts faster than any other model in March 2016.
Crossovers are increasingly proving to be one of the most popular body styles with consumers so it's no surprise the Sportage is joined by the similar-sized Hyundai ix35 (UK's eighth fastest seller) and the premium offering from BMW in the shape of the X1 (ninth fastest seller).
Karolina Edwards-Smajda, Auto Trader Retailer & Consumer Products Director said: "It's clear that the Kia Sportage is a big hit with used car buyers and it's not surprising given how popular the new one is. When Kia launched an all-new version of the model at the beginning of this year it ranked ninth in the top 10 best-selling new cars in February and secured record orders, pushing Kia to a record new car market share of 3.46% in February. Clearly it's had a knock-on effect on used models too.
"The Ford Fiesta is in-demand across the regions too. That's no surprise given it's been the number one best-selling new car for the past seven years and is currently the best-selling new car in 2016 too."
Stephen Kitson, Communications Director, Kia UK added: "The Kia Sportage is the car every dealer wants to put on their forecourt thanks to a turnaround time that is half that of any other car. The Sportage has been the most in demand approved used car in the network and we know it has been a great success in the past year. We expect this to continue thanks to the outstanding success of the new Kia Sportage".