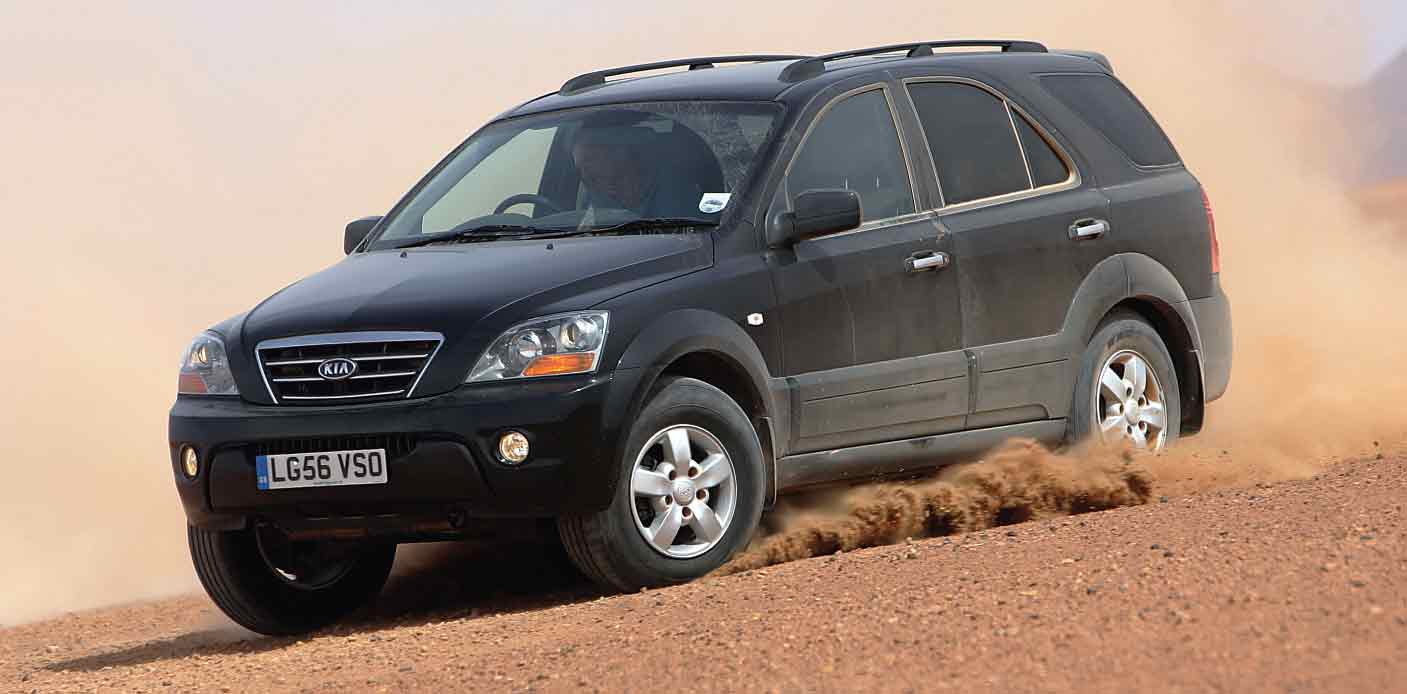 The Sorento is interesting in that in spite of being styled for the city as a rival to the likes of the Land Rover Freelander and Nissan X-Trail its body sits on a proper separate steel chassis, which along with the low-range transfer gearing marks it as a practical off-roader. By the same token it doesn't have all-independent suspension; the front wheels are independent with coil-sprung doublewishbones, but the rear axle is rigid, and though also coil-sprung doesn't promise quite the same levels of ride comfort as its allindependent rivals. That's a small point, however. More interesting is that you can choose between a permanent four-wheel drive system, which is fitted to premium versions, or a selectable system as fitted to the base XE. There seems to be no logical reason for offering two different types other than the idea that people buying into a more expensive car would expect permanent four-wheel drive. Whichever system is applied the car comes with either a 3.5-litre V6 or 2.5-litre commonrail turbodiesel engine.
Turbodiesel versions could have either five-speed manual or four-speed automatic – later upgraded to a five-speeder – while the petrol versions were only available with automatic. The smooth, quiet performance of the turbodiesel engine is impressive, and although it's a little underpowered, with a mere 138bhp to hauling a car that weighs over two tonnes it doesn't add up to nippy acceleration, it offers relaxed cruising performance and good economy.
The improved engine installed for the 2007 model year was a significant improvement with its 168 horse, but we've not seen any of these priced at £3000. Meanwhile the petrol engined alternatives are by far the better drivers' cars, the higher fuel consumption countered by smoother, quicker performance as well as the availability of low-mileage models from 2006 within our budget. All the Sorentos are exceptionally well equipped, the main reason for wanting a high-specification one would be to enjoy the heated electrically-adjustable front seats and the leather upholstery, or the satnav of some later models. The fact that they're all so well-equipped shows up on second-hand forecourts where there's often not much difference in price between XE and XS models, so it is worth shopping around for that extra bit of luxury, especially if you like the idea of permanent four-wheel drive. An early 2003 example with over 100,000 miles showing shouldn't cost more than £3000, though we've spotted low-mileage, well-maintained examples of this era asking £4000.
There's no reason to pay that much, because there are plenty of examples on offer for a lot less. There doesn't seem to be much of a price difference between turbodiesels and the V6, generally because the weaker demand for petrol power is countered by the generally lower mileage compared with most diesels at this price. The turbodiesels seem to be robust and reliable engines, one advantage being that they have chain-driven camshafts. The V6, unfortunately, does have a camshaft driven by a belt that needs changing every 60,000 miles so when buying a car with that mileage – or, as is quite likely on an earlier example with 120,000 miles showing, make sure the belt change has been done, or argue £300 off the asking price to cover the cost.
Diesels do suffer the common problem of sticking or clogged EGR valve which can lead to smoky exhausts, poor performance and rough idling, a problem that is easy enough to remedy but since similar symptoms might be the result of worn injectors, faulty injector pump and failing turbocharger, it's as well to reject any car that doesn't run sweetly and blow clean exhaust. Gears have been known to shed teeth, so listen for clicks in each gear and make sure the manual doesn't jump out of gear.
The selectable four-wheel drive system engages in response to a button on the dash, and sometimes takes a minute or so to engage and even longer to disengage. Make sure it works, a failure to do so could be nothing more than a poor electrical connection, but it could also mean serious transfer case damage.
Wheel bearings also fail, listen for the telltale groaning noise as you drive.
OFF-ROAD:
ON-ROAD:
VALUE FOR MONEY: