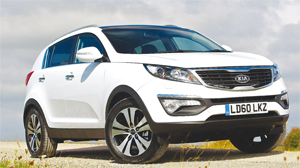 The new Kia Sportage, which goes on sale in August, is Kia's latest European-designed model to have been speci cally developed for the UK's roads and drivers. Research & development experts from Kia Motors (UK) have been involved with the testing of the new Sportage, to be built at the Žilina plant in Slovakia, from the prototype stages in mainland Europe right up until nal testing in the UK itself during the early part of 2010.
"Being involved right from the early stages of prototype testing on project 'SL' (the internal codename for the new Sportage), in both dynamic and static performance testing, has meant that we have been able to ensure UK market needs have been incorporated throughout the development process" explains Neil Kent, Product Specialist, from Kia Motors (UK).
"Once we had completed testing for ride quality, steering and dynamics with our European colleagues, vehicles were then brought to the UK for nal set-up, benchmarking and evaluation. UK testing is invaluable as it allows us to ensure we have the right levels of comfort and performance for the very speci c road conditions we have here," he added.