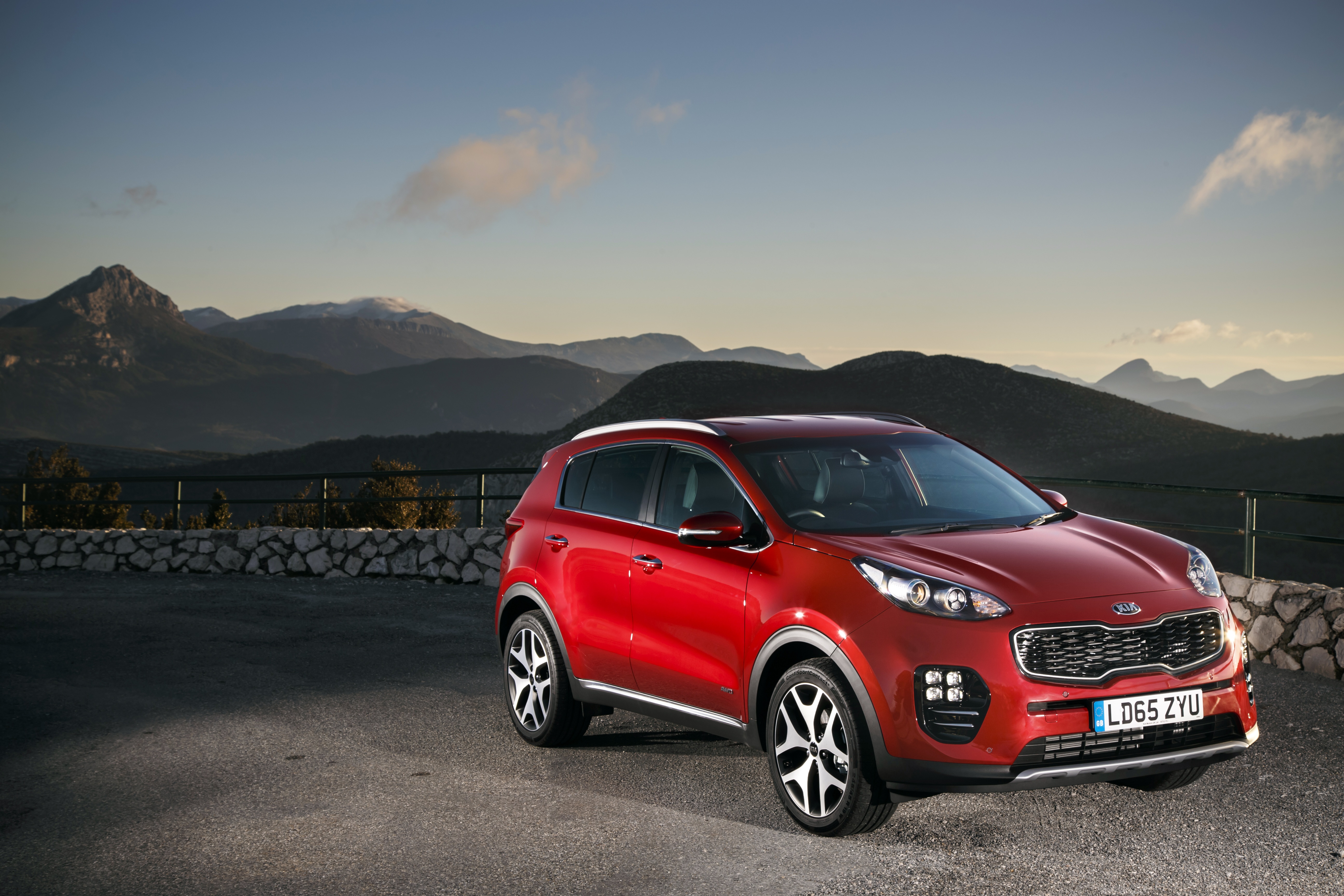 Kia has announced pricing and specifications for the fourth-generation of its best-selling model in the UK, the Sportage crossover. There are 18 variants on offer priced from just £17,995 on the road. For the first time GT-Line versions add an even more sporty flourish to the range, while the line-up is headed by the First Edition model, priced at £31,645. GT-Line models start at £24,350.
The new Sportage brings advances in fuel efficiency, comfort, connectivity, convenience and safety. The acclaimed styling of a model which sells as much on its looks as on its practicality has been subtly modernised and every model benefits from a more premium look and feel to the interior.
There are now four engines and three transmissions with the introduction of a 1.6-litre T-GDi (turbocharged gasoline direct injection) unit and a 7DCT (seven-speed dual-clutch automatic) gearbox, both of which are reserved exclusively for GT-Line. They join extensively re-engineered 1.6-litre GDi petrol and 1.7- and 2.0-litre turbodiesel power units with improved fuel economy and CO2 reductions of up to 29g/km, which means significantly lower company car tax for the Sportage's loyal legions of business drivers.
The six trim lines are badged 1, 2, 3, 4, GT-Line and First Edition. All versions powered by the 1.6-litre GDi and 1.7-litre CRDi engines are front-wheel drive, while those powered by the 1.6-litre T-GDi unit and the two 2.0-litre CRDi diesels have all-wheel drive. Four-wheel-drive versions are distinguished by the 'KX' prefix in the model designation – except for GT-Line and First Edition versions.
UK Sportage pricing
| | |
| --- | --- |
| Model | Price |
| 1.6 GDi six-speed manual 1 | £17,995 |
| 1.7 CRDi six-speed manual 1 | £19,745 |
| 2.0 CRDi (134bhp) six-speed manual KX-1 | £21,995 |
| 1.6 GDi six-speed manual 2 | £20,500 |
| 1.7 CRDi six-speed manual 2 | £22,050 |
| 2.0 CRDi (134bhp) six-speed manual KX-2 | £24,300 |
| 2.0 CRDi (134bhp) six-speed auto 2 | £25,610 |
| 1.7 CRDi six-speed manual 3 | £24,750 |
| 2.0 CRDi (134bhp) six-speed manual KX-3 | £27,000 |
| 2.0 CRDi (134bhp) six-speed auto KX-3 | £28,310 |
| 1.7 CRDi six-speed manual 4 | £26,550 |
| 2.0 CRDi (182bhp) six-speed manual KX-4 | £29,400 |
| 2.0 CRDi (182bhp) six-speed auto KX-4 | £30,710 |
| 2.0 CRDi (182bhp) six-speed auto First Edition | £31,645 |
| 1.6 T-GDi six-speed manual GT-Line | £24,350 |
| 1.6 T-GDi 7DCT GT-Line | £25,650 |
| 2.0 CRDi (134bhp) six-speed manual GT-Line | £25,850 |
| 2.0 CRDi (134bhp) six-speed auto GT-Line | £27,160 |