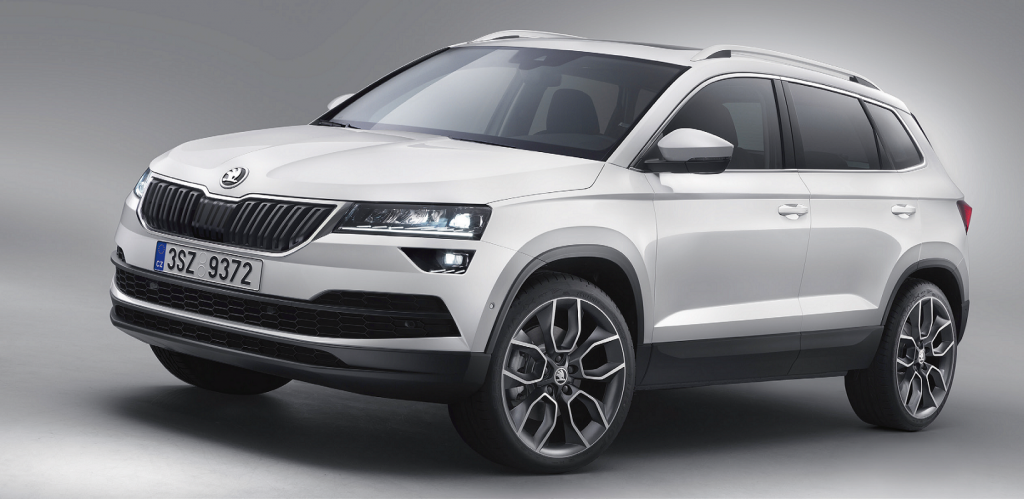 Skoda has unveiled the Karoq – its new five-seat SUV which will replace the Yeti this autumn. Once again based on the Volkswagen Tiguan, as is the outstanding new seven-seat Kodiaq which will sit above it in Skoda's 4×4 range, this promises to replicate its ultrasuccessful formula by offering exceptional interior space and flexibility.
Technical specifications for UK models are yet to be confirmed, however the range-topping 2.0 TDI 190 model will feature all-wheel drive as standard. Most other versions will offer a drive mode palette including a 'snow' position, and as with the Yeti you'll be able to specify 4×4 models with an 'Off-Road' button and Rough Road protection package.
Also similar to the Yeti is a cabin with three separate rear seats, each of which can be adjusted, slid, folded or removed – allowing a cargo capacity of up to 1810 litres. The front passenger's seat can fold, too, to let the vehicle carry extra long items.
In these ways, Skoda will present the Karoq as an all-new car doing the same things that made the Yeti (the overall winner in our 4×4 of the 2010 awards) one of the very best vehicles of its era. Naturally, like the Kodiaq it will come with the latest in safety and connectivity, which means phone pairing and an on-board wifi hotspot to go with
features like active lane keeping and autonomous emergency braking. Front and rear lights will be LEDs, too – as will a programmable suite of mood lights inside with a choice of ten colours.
Prices for the Karoq will be announced nearer to its UK market launch, which is expected to happen in October. The Yeti continues to remain comfortably below the £30k barrier, however, even at the very top of its current range, and
with the need to keep clear space between it and the similarly good value Kodiaq it's reasonable to assume that the company will be aiming to keep it there.