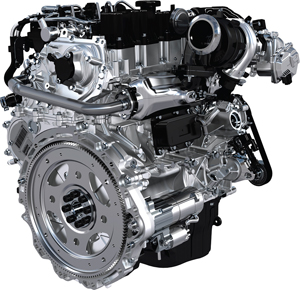 Impressive developments in hybrid and diesel drivetrains mean that CO2 outputs are falling year on year, writes Phil Weeden. What do you do, however, if you produce only SUVs and don't have super-green city cars to offset some of the heavier, thirstier cars in your range? That's the challenge at Jaguar Land Rover, which has recently revealed more info of its all-new Ingenium family of engines. The new units will be built from 2015 in the company's new £500 million manufacturing centre near Wolverhampton (pictured above).
Doctor Wolfgang Ziebart, JLR's Director of Group Engineering (pictured), revealed that by 2020, government legislation around the world will drive average CO2 emissions down to less than 100g/km and fuel economy to 75mpg. This provides tremendous challenges to car manufacturers, none more so than brands such as Jaguar Land Rover, whose products are premium and high performance.
An all-new family of engines was considered to be the only way that Jaguar Land Rover could respond to the environmental challenges moving forward while protecting the key attributes associated with JLR products.
In addition to the investment at the new engine manufacturing centre, JLR has also spent £40 million at its Whitley facility for powertrain development with 33 high tech engine cells that operate 24-7. Indeed, the new engines will have covered over two million miles of real world driving and 72,000 hours of dyno testing before a single unit has been sold.
The design of the engine has been aided using 3D virtual simulation which has enabled engineers to ensure access to key components and service items is as easy as possible, thereby reducing time required in the workshop for regular maintenance. Service intervals for the four-cylinder diesel will be 21,000 miles or two years.
Ingenium has been designed to be fully modular, allowing engines to be mounted in-line or transverse, for front-wheel drive, rear-wheel drive or all-wheel drive applications, manual or automatic transmissions as well as hybrid technology. It will be available as a petrol or diesel with many components common, thereby simplifying production, enhancing scalability and improving quality.
The first application will be the AJ200D – a four cylinder, 2.0-litre turbo diesel to appear in the forthcoming Jaguar XE compact saloon. It will be Euro 6 compliant, with less than 100g/km. It is likely that future Evoques will get Ingenium powerplants, together with the brand new Discovery Sport (first details of which are on page 18, November 2014. Buy it here).
To achieve the seemingly paradoxical goals of better emissions and fuel economy with excellent performance and refinement, Jaguar Land Rover sought to develop an engine that was lightweight with minimal friction wherever possible. There are 12 patents registered to the Ingenium engine family and it will weigh up to 80kg lighter than a typical power unit today.
The lightweight blocks share the same bore, stroke, cylinder spacing and 500cc per cylinder capacity. It enables Jaguar Land Rover to consider many permutations, adding and removing cylinders where required. For example, the same engine could in theory be turned into a V6 with two three cylinder blocks mated together to produce a 3.0-litre power plant.
Borg Warner or Mitsubishi turbochargers will be used on all models to improve performance and enhance combustion efficiency. There will be direct fuel injection, variable valve timing and stop-start technology.
Roller bearings on the cam and balancer shafts are designed to reduce friction; indeed the AJ200D will experience 17 per cent less friction than the equivalent diesel engine used in today's Freelander 2. Further advances include computer controlled water and oil pumps, delivering the optimum amount of cooling and lubrication as and when required to facilitate the engine getting up to temperature and minimise friction and energy loss.
There will be a simplified cam drive system, which enables the modular applications while the crankshafts will be offset from the centre of the block.
Jaguar Land Rover will continue to source Ford-derived engines for the foreseeable future, but the Ingenium family represents a bold new step for the company – the first new range of powertrains since the two brands were brought together, being built in the firm's first 'ground up' production facility. It will give Jaguar Land Rover greater flexibility and control over its future, allowing it to respond more quickly to the needs of its customers around the world. Doctor Ziebart (above) concluded: "We believe that with the range of technologies we are investing in, Jaguar Land Rover can satisfy the often conflicting requirements of delivering high-performance luxury vehicles that reduce our carbon footprint in the long-term."